Friday, May 18, 2018
1 p.m.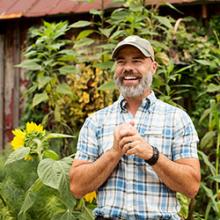 $18/$15 in advance
$20/$17 day of event
Blackberry Farm's artisan chef and farmstead educator Jeff Ross says, "Good gardeners cook and good cooks garden." He understands the too-frequent disconnect between the planted fields and a talented kitchen, and seeks to erase that distance. With an education in American history, more than two decades of professional experience with plants, and a profound passion for food, he has found, at Blackberry Farm, a place to combine his talents. During your time spent with him, you will discover different uses of familiar wild and cultivated plants (and even weeds) to create a uniquely toothsome and nutritious menu.
"Eating Between the Rows" with Jeff Ross is in Alsdorf Auditorium.
The lecture will be followed by a book signing in Lenhardt Library.