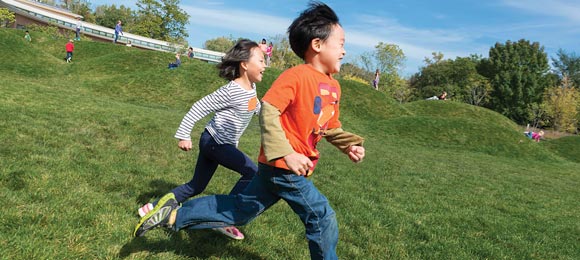 Summer Camp
The Chicago Botanic Garden's signature day camp provides exciting, fun, and enriching outdoor learning experiences for your child, with programs for children ages 6 months to 15 years old. We are happy to offer before-camp and after-camp care for your camper as well.
Science, nature, art, ecology, and cooking camps draw kids from Chicago and the North Shore suburbs, including surrounding areas of Glencoe, Highland Park, Deerfield, Northbrook, and Winnetka.
Become a Garden Plus member today and enjoy a special discount.
Where Science, Nature & Fun Meet!
June 19 – August 18, 2017
Camp CBG offers morning and afternoon camps, supervised lunch, and full-day camps to give parents flexible scheduling options. Spend a week or the whole summer at the Garden!
Our instructors are highly qualified, and many have been teaching with Camp CBG for more than five years. All staff members participate in annual training, are first-aid certified, and love teaching.
Rave reviews from parents of campers
"I would just like to thank you and your staff. You have all been amazing. My daughter loved the program, came home excited every day and I felt totally comfortable sending her and knowing she would be cared for well and safe! We look forward to seeing you all again next year!"

"This was the best camp experience we've had! This was the first time my daughter was eager to share information with us after camp."
"The counselors are so attentive and knowledgeable, the projects are so tangible and exciting to the kids, and it gives them a wonderful ability to explore the Garden!"
"Drop-off and pick-up are excellent—so organized and everyone was so friendly and cheerful."
"Thank you for making the past two weeks so much fun! The...kids thoroughly enjoyed themselves and I couldn't be happier with the amazing instructors, projects, and experiences. I think my kids brought home enough plants for a garden."