May 12 – September 30, 2021
Wednesday through Friday, 11 a.m. – 3 p.m.
Saturday and Sunday, 11 a.m. – 4 p.m.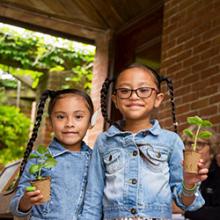 Staff or volunteers in the Regenstein Fruit & Vegetable Garden share information about our featured plant and encourage visitors to take some seeds or a seedling home to plant on their balcony, patio, or in their backyard garden. A care sheet with growing information and use tips is available for visitors to photograph. Note: seeds and seedlings are distributed each program day while supplies last.
May 12 – 30 'Lemon Sun' Squash (seeds)
June 2 – 13 'Midnight Snack' F1 Tomato
June 16 – 27 'Dragon Roll' Shishito Pepper
June 30 – July 11 TBD
July 14 – 25 'Italian Giant' Parsley
July 28 – August 29 'Lemon Gem' Marigold
September 1 – 30 'Grandma Hadley's' Lettuce
 Sponsored by