July 1 – October 4, 2020
Wednesday through Friday, 11 a.m. – 3 p.m.
Saturday and Sunday, 11 a.m. – 4 p.m.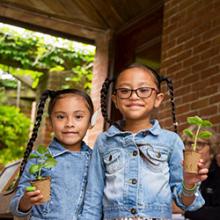 Volunteers in the Regenstein Fruit & Vegetable Garden share information about each month's featured plant and encourage visitors to plant seeds or seedlings (May-August) to take home to their own gardens. A flier with care information is available.