Super Stolie and the Rockstars
Wednesday, July 17, 2019
5:30 – 7:30 p.m.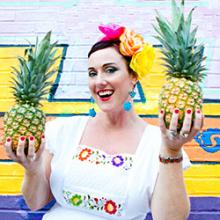 Super Stolie has been rocking for families since 2007. Her energetic and interactive shows engage all ages, genders, and capacities with a mix of singing and dancing, games and high fives, colorful scarves, and her signature rockstar jump! First, spice it up with ¡Super Stolie Guacamole! and the Avocados. Stolie has spent the past five winter seasons performing in Puerto Vallarta, Mexico. To incorporate her love of the Spanish language and Latin culture, the ¡Super Stolie Guacamole! bilingual show offers mixed-language music and dances for the whole family. Then, after a quick costume change, Super Stolie and the Rockstars continue the party with a dynamic batch of fun, original kids' songs from her four albums, traditional nursery rhymes, and popular cover tunes. 
Please Note: You are encouraged to bring your own chairs as the Garden has a limited supply available each evening.