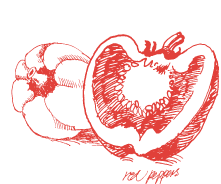 August Peppers
Peppers are members of the Solanaceae or nightshade family, as are potatoes, tomatoes and eggplants. Widely cultivated around the world, peppers add their distinct flavors to mild or quite spicy dishes.
To grow peppers, sow seeds indoors, 1/4- to 1/2-inch deep, 8 to 10 weeks before the Chicago area's average last frost date of May 15. Seeds germinate in 7 to 10 days when provided with 75- to 80-degree temperatures Fahrenheit.
When grown as annuals here, peppers thrive in heat and should not be planted outside until nighttime temperatures are above 55 degrees.
Plant 18 to 24 inches apart in rows spaced 2 to 3 feet wide. Pinch off the first blossoms to encourage healthy root development. Mulch the soil to retain moisture, keep weeds at bay and insulate the plants against cold. Harvest when green and mature in size. Use scissors to snip stems.
---
Old-World Pizza with Asiago and Red Peppers

4 7-inch prepared pizza crusts
(such as Boboli)

2 tablespoons olive oil

4 ounces pesto sauce

8 ounces Asiago cheese (shredded)

6 ounces grilled red peppers (julienned)

4 ounces roasted garlic

Salt and freshly cracked pepper to taste

Serves 4.

Preheat oven to 500 degrees Fahrenheit.

Brush prepared pizza crusts with olive oil. Rub crusts with fresh pesto sauce.
Top with shredded cheese, grilled red peppers and roasted garlic cloves.

Season with salt and pepper.

Bake in oven for 8-10 minutes.
Serve immediately.

 
---
Grilled Red Pepper Jack & Pepperoni Panini

1 round loaf sourdough bread
(about 7 inches in diameter)

1 cup grated pepper jack cheese
(about 1/4 pound)

1/2 cup fresh coriander sprigs, washed, spun dry and chopped

16 slices pepperoni

Two 7-ounce jars roasted red peppers, drained and patted dry

Can be prepared in 45 minutes or less.

Preheat oven to 375° F.

Cut eight 1/2-inch-thick slices from center of sourdough loaf and brush with oil. In a small bowl toss together pepper jack and coriander. Make sandwiches on bread with pepperoni, roasted peppers and cheese mixture. Grill sandwiches in a sauté pan until cheese is melted and bread is golden brown, about 5 minutes.

Makes 4 sandwiches.