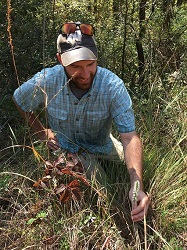 Research Interests:
Population & community ecology
Conservation biology
Fire ecology
Restoration ecology
Selected Publications:
Beck, J. In press. Variation in plant-soil interactions among temperate forest herbs. Plant Ecology.
Beck, J. and T. Givnish. 2021. Fine-scale environmental heterogeneity and spatial niche partitioning among spring-flowering forest herbs. American Journal of Botany 108:63-73.
Wagenius, S., J. Beck, and G. Kiefer. 2020. Fire synchronizes flowering and boosts reproduction in a declining prairie species. Proceedings of the National Academy of Sciences 117:3000-3005.
Beck, J., B. Larget, and D. Waller. Phantom species: Adjusting colonization and extinction for pseudo-turnover. Oikos 127:1605-1618.
Beck, J., M. McKone, and O. McMurtrey. 2016. Edge Effects and avian community structure in a restored tallgrass prairie. Natural Areas Journal 36:328-333.
Beck, J., D. Hernandez, J. Pasari, and E. Zavaleta. 2015. Grazing maintains native plant diversity and promotes community stability in an annual grassland. Ecological Applications 25:1259-1270.