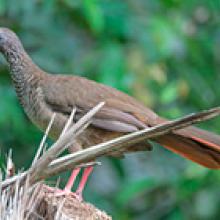 Thursday, August 10, 2017
2–3 p.m.
Linnaeus Room, Regenstein Center
Free
Learn about the birds of Brazil in a special Brazil in the Garden presentation from Doug Stotz, senior conservation ecologist at The Field Museum. 
Brazil is the fifth largest country in the world. Its area is larger than the lower 48 states of the United States combined. It is one of the most biologically diverse countries in the world, home to most of the Amazon rainforest, as well as biogeographic realms as distinct as the Caatinga, a desert region, the vast savannas of the Cerrado, and another major area of tropical forest, the Atlantic Forest of eastern Brazil. A tropical forest with species of birds found no place else in the world exists on the very outskirts of the megacities of Rio de Janeiro and São Paulo. Brazil, ranked third in the world for most bird species, has more than 1,800 known species of birds.
In his talk, Dr. Stotz will survey the avifauna of Brazil, discussing geographic and ecological patterns in this fascinating country. He will also consider the conservation threats that face this country of rapid development and discuss some of the answers to those threats.
Photo: Speckled chachalaca (Ortalis guttata)