Saturday & Sunday, July 25 & 26, 2020
11 a.m. – 4 p.m.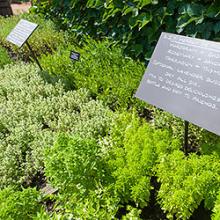 Regenstein Fruit & Vegetable Garden
Displays, how-to demonstrations, tours, vendors, and chef demonstrations showcase a variety of garden herbs that visitors can grow in their own gardens.
Staff, volunteers, and outside experts will talk about:
how to grow herbs in containers
how to grow herbs: seed or transplant?
how to use herbs in summer beverages
how to prepare and use a variety of pestos
how to attract pollinators with herbs
how to grow herbal microgreens
basil varieties from PanAmerican Seed Company (Saturday only)
and more!
Saturday and Sunday herbal how-to demonstrations:
Noon:  herbs in hanging baskets 
1 p.m.: herbal beverages for summer
2 p.m.: window box herbs
3 p.m.: pesto pizzazz
Take a tour!
Saturday and Sunday, 12:30 p.m.
Fruit & Vegetable Garden herb plantings with Lisa Hilgenberg, horticulturist
Shop from these vendors:
Rollicking Buckaroo Pepper Jam
Tiny But Mighty Popcorn
W & M Land Corporation
Wanderlust Sea Salt
Xanadu Forests Apiary