Tim Pollak, outdoor floriculturist here at the Chicago Botanic Garden, recently taught a fun class, a glass jar terrarium workshop, at the Joseph Regenstein, Jr. School of the Chicago Botanic Garden. I went down to the production greenhouse that morning to learn how to plant a terrarium so I could share some tips with you. Follow the steps below to make your own! Need a little more direction? In the video below, we build a terrarium and give a few extra tips for success.
First, select a container such as a glass bottle, glass vase or bowl, miniature glass greenhouse, fish bowl, or something similar. Use a tightly closed, clear glass or plastic container to retain the most humidity. Open containers also work, but will require more frequent watering.
Let's build the layers (from the bottom up):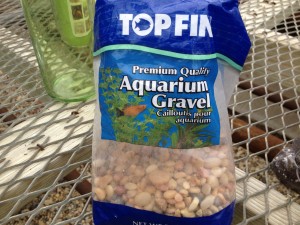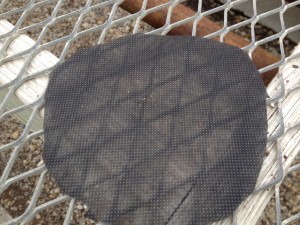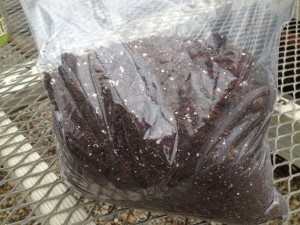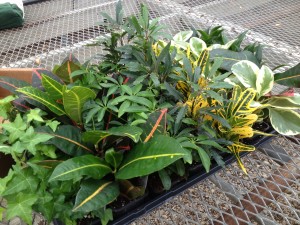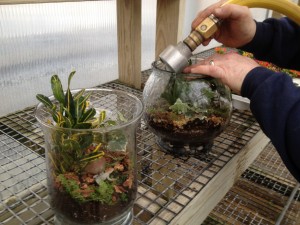 Caring for your terrarium
Watering: Water until moistened after planting, being careful not to let water pool in the bottom where it cannot be removed. Leave the closed terrarium uncovered until the foliage has dried. A closed terrarium may not need to be watered for four to six months—look for condensation to form on the inside of the container to check the moisture level. Open terrariums need watering occasionally but not as frequently as other houseplants. Watering should be light to avoid standing water. 
Light: Keep out of direct sunlight as the terrarium could heat up too much and you could injure the plants.  Most plants suitable for terrariums prefer medium to low light. Bright, indirect sun is preferred. If you need to supplement light with an artificial light, a 100-watt bulb placed close to the terrarium or fluorescent lights placed directly over the terrarium will be helpful. Supplemental lighting should be provided 14 to16 hours per day.
Fertilizer: Generally, plants in a terrarium should not grow rapidly and should seldom need fertilizer. Do not fertilize more than one to two times per year. Use a slow-release pellet fertilizer at 14-14-14. 
Temperature: Keep terrariums in a warm location (65 to 70 degrees Fahrenheit). Avoid cold drafts as much as possible. Certain plants, such as desert plants and succulents, may prefer warmer temperatures.
Pruning: Many plants in a terrarium will gradually outgrow their limited space. Pruning will keep them in their space and often promote side-shoot growth that will help fill out the plants. Be sure to remove all trimmed vegetation from the terrarium when complete. As the plants mature, it may become necessary to remove certain plants or add others.