The start of the new year is an ideal time for homeowners to begin making plans for enhancing their garden's beauty. As with making resolutions, it's easy to dream big. But the beginning of a new year can be a good time to focus on making one or two small, realistic changes. Small changes, after all, can have a big impact. Here are a few with the potential to improve the quality of your landscape — and, by extension, your life!
Planting one tree in the right place is an easy and affordable way to create beauty and improve the quality of life. Trees enhance the landscape in all seasons, including winter, because they provide the "bones" of a landscape design. They can also provide showy spring or summer flowers, a shady retreat from soaring heat, and exquisite fall colors or evergreen boughs.
Trees don't need to be large or expensive to be worth planting. Smaller, younger trees often need less time than larger specimens to become established and resume growing, and will often become a larger in a shorter period of time. When planted strategically—usually to the north and west—trees of all sizes can save money by reducing the need for winter heating and summer cooling.
This spring, consider planting a sapling that's right for the amount of sun and type of soil you have. No matter the cost, the tree will provide invaluable benefits for you and the environment. Over its lifetime, which can span many generations, one tree typically absorbs one ton of carbon dioxide from the atmosphere, all the while producing life-sustaining oxygen—which makes a simple change a lasting legacy.
One into Many
Perennials can be budget-friendly plants. Unlike annuals that must be replanted each year, perennials grow anew each spring from their winter-hardy roots.
One benefit of perennials is that each plant's root system becomes larger over time, and the clump eventually needs to be dug up and divided. This gives gardeners the chance to turn one plant into several plants.
If you have perennials in your garden, instead of buying new plants this year, why not focus on digging and dividing the plants you already have. Sharing or trading your extra divisions with other gardeners or neighborhood organizations will help everyone have larger and more beautiful gardens and increase plant diversity.
If you don't have perennials in your garden, why not consider investing in one that it is native to the Midwest. If it likes where it is growing, soon you will have more to enjoy or share, and you will support the native insects and wildlife that depend on them for habitat and nourishment.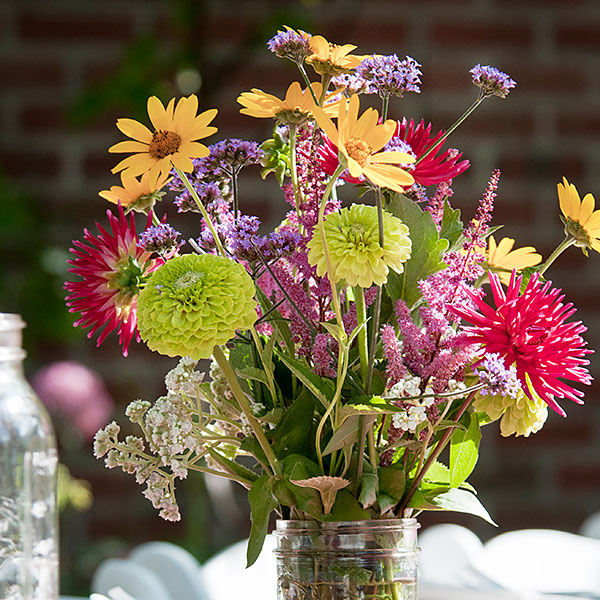 Sow a Bouquet
A bouquet of fresh-cut flowers makes hard days seem easier, gray days seem sunnier, and puts a smile on the face of anyone who sees it. But fresh flowers can be a low priority for anyone on a tight budget.
A less expensive way to enjoy fresh flowers is to grow a cutting garden from seed. For around $20 you can buy a collection of seeds for a summer's worth of flowering annuals that make excellent cut-flower bouquets.
If you want to assemble your own collection, good choices include cosmos, larkspur, nigella, sunflower, and zinnia. Seeds of these and many annual plants can be sown directly into garden soil, making it possible to grow beautiful bouquets less expensively and, because you grow them at home, more energy efficiently.