Library Exhibitions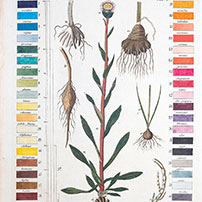 April 20 – July 15, 2018
Regenstein Center, Lenhardt Library
Free Library Talk
Sunday, May 20 at 2 p.m.
Colors are an integral part of nature. Hues represent every aspect of life. How does one describe a color, or devise a language of color? Naturalists and artists developed charts and chromatic scales to form a frame of reference for colors. This exhibition highlights a variety of color charts and examples of colorful botanical art.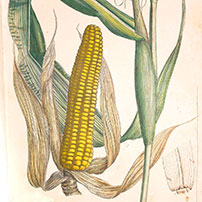 Farmers' Market: Bountiful Harvest
July 20 – October 14, 2018
Regenstein Center, Lenhardt Library
Free Library Talk:
Sunday, August 19, at 2 p.m.
Delectable fruits and vegetables call to us with their recognizable scent and appearance as we wander through a farmers' market. On view in this exhibition are examples of colorful eighteenth-century illustrations of favorites such as corn, apples, and pears, in works by Johann Knoop, Nees Von Esenbeck, and others.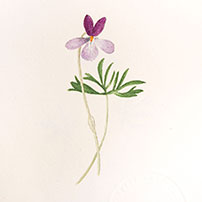 Laura Ingalls Wilder and her Prairie
October 19, 2018 – January 13, 2019
Regenstein Center, Lenhardt Library
Free Library Talk:
Saturday, November 17 at 2 p.m.
Laura Ingalls Wilder was inspired by her natural surroundings. The prairie lands her family lived on and farmed provided her with a rich knowledge of plants and crops. This exhibition features Marta McDowell's book The World of Laura Ingalls Wilder and showcases original works from the rare book collection including prairie plant illustrations by naturalist Helen Sharp that are published in the book.