Two of America's powerhouses in urban agriculture—the Chicago Botanic Garden's Windy City Harvest team and the U.S. Botanic Garden in Washington, D.C—have teamed up to make urban agriculture programs across the country even stronger.
The newly created Urban Agriculture Toolkit is designed to encourage new growth and collaboration in urban agriculture within and beyond the public garden community. The Garden and the USBG are also holding a series of workshops for a national audience to dive into the toolkit and give participants a chance to share their own experiences. 
The toolkit uses Windy City Harvest as its model and shares lessons learned plus tools and resources drawn from the Garden's many years of work in urban agriculture. Topics range from farm-site layouts to funding resources to developing and sustaining meaningful community partnerships.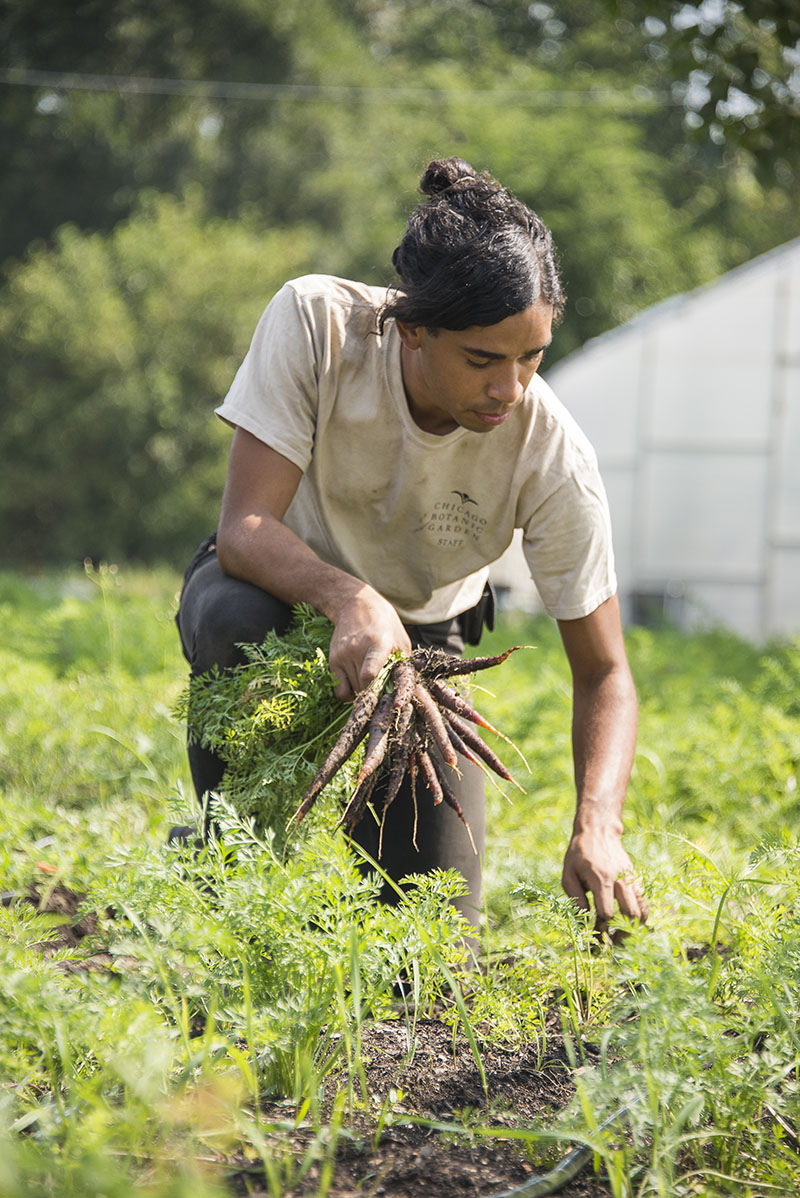 "We saw an opportunity to fill a need in the public gardens community for practical guidance on initiating or expanding programs in urban agriculture, which could be informed by lessons Windy City Harvest staff have learned over more than two decades of work in this area," said Emily Hestness, education specialist in urban agriculture at the U.S. Botanic Garden.
"The idea of professionalizing urban agriculture on a larger scale has been growing in the last 10 years," said Eliza Fournier, health and special contracts director for Windy City Harvest. "I think it presents different challenges and opportunties than growing an edible garden in your backyard or an allotment plot."
More than 40 organizations and public gardens have been represented at the three trainings done so far, and participants have tuned in from as far as Australia. 
Seeds for the toolkit were planted three years ago. The USBG recognized that food programs had increasingly become part of public garden identities and offered the potential for urban agriculture growth within surrounding communities. To guide future engagement, they worked with the American Public Gardens Association (APGA) to develop a report that identified and described successful urban agriculture programs. "The report highlighted Windy City Harvest's demonstrated success as a public garden engaged in urban agriculture programming," said Hestness.
A USBG leadership team reached out to Angela Mason, associate vice president of community engagement and senior director of Windy City Harvest, and toured Windy City Harvest sites, and a collaboration was born. The organizations partnered on a survey of member gardens, which showed a strong interest in urban agriculture programming and training. That feedback guided the Windy City Harvest and USBG team in creating workshops for public garden professionals. 
Tim Wilson, farm education manager at the Minnesota Landscape Arboretum (MLA), said the toolkit helped his team evaluate programs and partnerships. "It explains programs well and is an invaluable resource for moving through the stages of concept, proposal, and action with a variety of teams at a public garden and inspires creative community partnerships for new programming," Wilson said.
Wilson was an apprenticeship instructor for Windy City Harvest for two years. His experience with the program informed his work with the MLA, where he proposed and has now implemented a similar program.
"It fit directly into what they hoped to develop at the new 34-acre Farm at the Arb that opened in 2019," he said. He also helped integrate some of MLA's older programs into a new apprenticeship structure "with some great staff and direct support from Windy City Harvest trainings and the toolkit."
The Chicago Botanic Garden traces its urban agriculture programs to a 2003 pilot project with the Lake County Forest Preserve District. That partnership created the first Windy City Harvest program: the Green Youth Farm in Lake County. Today, the Windy City Harvest team works with community members at 15 different Windy City Harvest sites in Chicago and Lake County and, as Fournier notes, "connects people to plants through food, health and jobs." One of the resources shared in the toolkit is the vital need for urban agriculture programs to engage with community partners. For instance, VeggieRx "came out of community feedback at our neighborhood markets," Fournier said. The program offers free produce supplemented by nutrition and cooking support for more than 1,000 community health center patients with diet-related diseases every year.
"We always need to be evolving our programs to be responsive to community needs and interests," added Fournier. "And making sure we, as a cultural institution, continue to be an asset to our many partners."