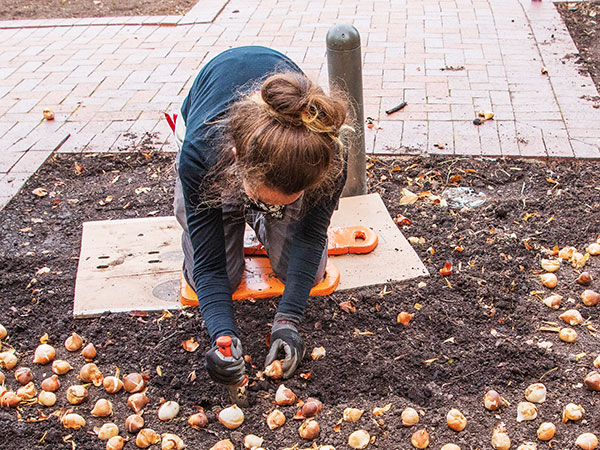 Tips from the gardens of our horticulturists
Don't be afraid to experiment, or try new things in your garden. Our horticulturists do this in their own gardens.
From senior horticulturist Chester Jankowski:
Go to your local nursery near the end of the season and look for the plants they are trying to get rid of—the ones on sale that might not look so perky. Fall is a great time to plant, and you won't feel so bad if your plant doesn't come back if you got a great deal on it.

Leave your houseplants outside while the weather cools off. The cooler night temperatures will encourage some plants, such as orchids, to flower. Bring them in when the temperature hits about 50 degrees Fahrenheit and before the first frost.

Submerge your houseplants in water before you bring them in, and make sure all the air is out of the roots. This will stop any pests from coming inside with you.

A power drill with an auger is a fast and efficient way to plant bulbs. Be careful of large tree roots when augering.

Start a garden journal. Taking note of what is happening (or what has happened) is invaluable to next year's garden success.

Store your tools in buckets of sand to prevent rust—this is best for shears and metal shovels.

Do not rake and bag up your leaves. Mulch them with your lawn mower and spread them back into your beds or lawn.

Try growing spinach or kale all winter long. An insulated garage or small raised bed with a cloth top can sustain fresh vegetables all winter.
From assistant horticulturist Sarah Nolimal: 
Till the soil beforehand so it's nice and loose. This makes it easier to simply stick my soil knife, or hori hori, in the ground; then you pull, drop in a bulb, and cover it up. To keep the soil loose, I work on flattened cardboard to distribute my weight—and help keep my clothes clean(er). This goes for any fall planting, as summer annuals have a long season and a lot of time to dig their roots in deep. Tilling, or turning the soil as much as possible, makes for a much easier planting job.
Senior horticulturist Tom Soulsby experiments with new plants he may find on sale, just to see how they perform, and senior horticulturist Heather Sherwood put six beehives on her garage roof, with honey as a sweet result. Think about trying DIY remedies, such as making your own repellent. As an example, place smashed eggshells around your blooms to keep slugs from crawling and feasting on leaves.
And you can set yourself up for success in the growing season by being careful not to overwater—a rain gauge and a written record will help.