June 15 – August 14, 2020 (no camp June 29 – July 3)
Noon – 12:30 p.m.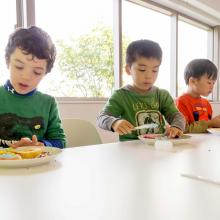 Grades preK to 7 (ages 4 – 13)
Camp CBG offers a supervised lunch period for Green Sprouts, Green Thumbs, and Explorers campers attending morning and afternoon camps. Camp staff supervises the lunch and escorts campers to their afternoon sessions. Pack a nut-free lunch that does not require refrigeration.
Learning Campus