Windy City Harvest Farm Tours
Visit one of the Windy City Harvest farm sites and learn more about our thriving program. We offer public and group tours. Tours last about 45 minutes to an hour and include information about our program history, job-training mission, and growing practices. All proceeds from the tour fees help fund the education and job-training initiatives of Windy City Harvest.
Group Tours
Group tours can be arranged at any of the Windy City Harvest farm sites. Tours can be scheduled Monday through Friday between 9 a.m. and 2 p.m. from March through November, depending on availability.
Preregistration is required for all group tours and farm experiences. Requests must be made at least two weeks prior to the visit date. For more information or to schedule a group tour, please contact Click here to show mail address.
Group Tour Rate:
Includes: 1 hour tour 
Nonprofit and school groups: $5 per person starting at $50 
Private groups: $10 per person starting at $100
Farm Experience Rate:
Includes: 1 hour tour, team building activity, and farm work (2.5 total hours) 
Price: $500 per group 
Maximum number of people per group: 20
---
Admission:
Payment is required at time of tour. Provide payment in form of check or money order payable to Windy City Harvest or cash upon arrival at tour site. An additional fee will be charged for groups who would like to visit two or more farm sites during the tour. Tour groups must provide their own transportation.
Attire:
Please dress appropriately for the weather and walking around a farm. Layered clothing and appropriate footwear (closed-toe shoes) are recommended. We also recommend bringing your own water to stay hydrated while on the tour.
Cancellation:
Public and group tours may be canceled, rescheduled, or modified (in the number of reserved guests) up to ten days prior to the reserved tour date. After that date, a 50 percent refund may be given for cancellations. Payment in full is expected for the number of guests reserved, even if individuals do not attend. Payment for additional guests, upon availability, will be expected upon arrival to the tour. Rescheduled tours must be completed by November of the same year. Tours canceled by Windy City Harvest due to weather or other factors that cannot be rescheduled will automatically be fully refunded. You'll be notified of a cancellation 24 hours prior to the date of the tour. To cancel or transfer the tour, please contact wchtours@chicagobotanic.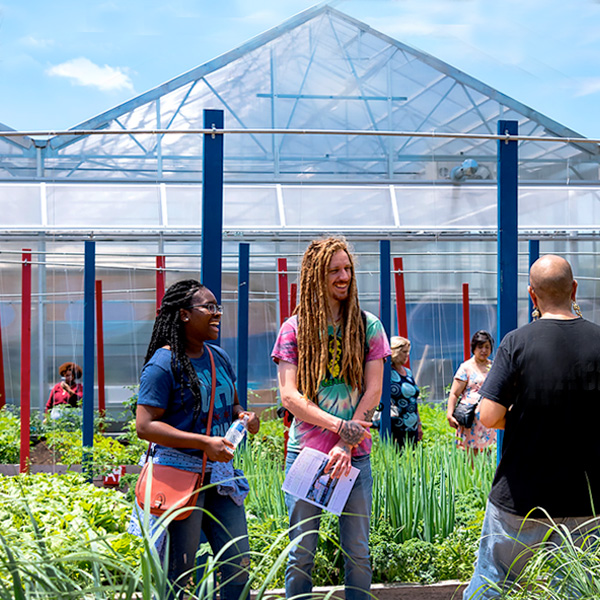 Farm on Ogden Public Tours
Public tours of the Farm on Ogden are offered on Saturdays at 1 p.m. Preregistration is not required. Groups of more than 20 should call in advance.
Location:
3555 W. Ogden Ave., Chicago IL, 60623 (Central Park cross street, Central Park pink line stop)
Admission:
General admission: $10 
Students (with ID): $5 
Residents of zip codes 60623, 60624, and 60608 (with ID): free
Preregistration is not required.