Visit one of the Windy City Harvest farm sites and learn more about our thriving program. We offer public and group tours. Tours last about 45 minutes to an hour and include information about our program history, job training mission, and growing practices.

All proceeds from the tour fees help fund the education and job training initiatives of Windy City Harvest.
Public tours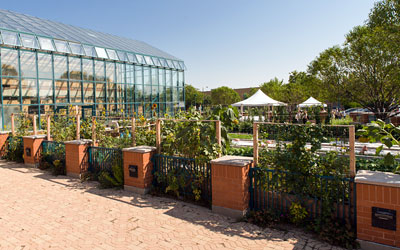 Year-round tours are offered to the public at our Windy City Harvest Training and Production Headquarters at Arturo Velasquez Institute, a satellite campus of Richard J. Daley College. Visitors will tour the on-site greenhouse, hoophouse, aquaponics system, and outdoor growing beds.
Fridays, March 10 – June 23, 2017
11 a.m. - 12 p.m.
Arturo Velasquez Institute, 2800 S. Western Avenue, Chicago, IL, 60608
Students/Adults: $7/$10 per person
Register for the public tour by the Tuesday prior to the Friday tour.
Group tours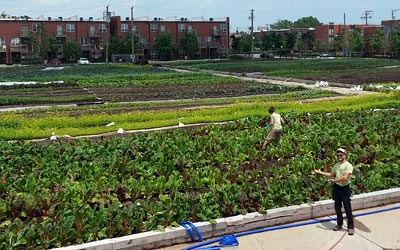 Group tours can be arranged at several of the Windy City Harvest farm sites. Tours can be scheduled Monday through Friday between 9 a.m. to 3 p.m. from March through November, depending on availability. We do not offer weekend tours.

Preregistration is required for all group tours. Requests for group tours must be made at least two weeks prior to the tour date. For more information or to schedule a group tour, please e-mail Laura Erickson.

Group tour rates
Nonprofit and school groups: $5 per person
Private groups: $10 per person
Required deposit: $100
Maximum group size: 35

Due to our full production schedule and limited staff time, there is a $100 minimum deposit for all group tours.

An additional fee will be charged for groups who would like to visit two or more farm sites during the tour. Tour groups must provide their own transportation.
Group tour locations
Legends South Farm
4451 S. Federal Street, Chicago, IL, 60609
This two-acre urban farm is a collaboration among Windy City Harvest, the Chicago Housing Authority, and Brinshore-Michaels, the site developer. This site serves as an incubator for six small farm businesses independently operated by graduates of the Windy City Harvest Apprenticeship program and Business and Entrepreneurship for Local Foods course. Its incubator function is supported by a USDA National Institute of Food and Agriculture (NIFA) grant. This site reflects a wind-row approach to growing on land that has contamination issues: geotextile fabric covers the site, and compost-filled beds are contained by timbers that keep paths neat. This site has multiple one-eighth acre farm plots, as well as shared-use tool storage, a Good Agricultural Practices-approved wash-pack station, hoophouse propagation space, and a community allotment garden.

Rodeo Farm
2600 S. Washtenaw Avenue, Chicago, IL, 60608 (Entrance of the farm is at 26th Place and S. Rockwell Avenue)
Located near our Production and Training Headquarters, this nearly two-acre site is owned by Cook County. It is a major training, commercial crop, and composting production site for Windy City Harvest, which sells the produce grown here to nearby produce distributor Midwest Foods. Rodeo Farm is a training site for Apprentices and Windy City Harvest Corps employees. The site also features a hoophouse for year-round production, beehives, and space for experimental production in partnership with other organizations. Rodeo Farm proudly diverts 15,000 pounds of food waste annually by converting it into compost. The compost is then used to replenish the soil on site.

Windy City Harvest Training and Production Headquarters
2800 S. Western Ave, Chicago, IL, 60608
Also available for group tours, the Windy City Harvest Training and Production Headquarters is located on the grounds of Arturo Velasquez Institute, a satellite campus of Richard J. Daley College. This site houses a greenhouse for plant starts production, hoophouse for year-round growing, a ¼-acre raised bed farm, and aquaponics system. This site provides the training grounds and classroom space for Apprenticeship participants.
Washington Park Youth Farm
555 E. 51st Street, Chicago, IL, 60615
Washington Park Youth Farm is located on Chicago Park District property adjacent to Walter H. Dyett High School on 51st Street in Chicago. Built in 2009, the farm currently has 73 raised beds, a 42-foot hoophouse, two beehives, a small fruit orchard, native and perennial plantings, and community space for youth programming. Each season, 25 neighborhood high school students are hired to work on the farm from May through October. Students grow and harvest produce, learn about food systems and healthy eating, and cultivate job and life skills in a safe,
supportive, and structured environment.
The Washington Park Youth Farm is open to the public on farm stand market days. The on-site farm stand will be open on Wednesdays, July 13 to October 12, 2016, from 9 a.m. to 1 p.m.

Green Youth Farm in Lake County
3050 10th Street, Waukegan, IL 60085
Located on the border of North Chicago and Waukegan, Green Youth Farm in Lake County is the largest and oldest youth farm site, with slightly over an acre of growing space. In partnership with the Lake County Forest Preserve District and Preservation Foundation of Lake County, the farm is located inside the Greenbelt Forest Preserve. In addition to vegetable production, this site includes several apple and pear trees, a border of berry bushes and grapevines, three
beehives, and a large four-bin compost system. The farm trains 30 youth each season, helping them build job skills while learning about healthy eating and the food justice system. Youth participants are responsible for planting, harvesting, and taking the fresh fruits of their labor to a weekly farm stand.

North Lawndale Youth Farm
3555 W. Ogden Avenue, Chicago, IL, 60623
The program's most urban site, this Youth Farm is nestled on a quarter-acre lot between the El tracks and Ogden Avenue, the beginning of Route 66. Located on NeighborSpace land, this farm was built in 2005. In 2012, the North Lawndale Youth Farm expanded to an additional site down the street at Lawndale Christian Health Center, allowing more growing space to meet the needs of its 20 youth participants and the growing demand for farm-fresh produce from the weekly farm stand.

Attire
Please dress appropriately for the weather and walking around a farm. Ample clothing and appropriate footwear (i.e. closed toe shoes) are recommended. We also recommend bringing your own water to stay hydrated while on the tour.

Cancellation
Public and group tours may be canceled, rescheduled, or modified (in the number of reserved guests) up to ten days prior to the reserved tour date. After the tenth, a 50 percent refund may be given for cancellations. Payment in full is expected for the number of guests reserved, even if individuals do not attend. Payment for additional guests, upon availability, will be expected upon arrival to the tour. Rescheduled tours must be completed by November of the same year. Tours cancelled by Windy City Harvest due to weather or other factors that cannot be rescheduled will automatically be fully refunded. You'll be notified of a cancellation 24 hours prior to the date of the tour. To cancel or transfer the tour, please e-mail Laura Erickson at lerickson@chicagobotanic.org.