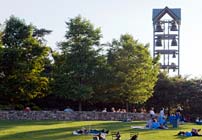 Tim Sleep
Monday, June 13, 7 p.m.
Preconcert carillon tours and demonstrations 5:30 to 6:30 p.m. (every 15 minutes)
Tim Sleep is the Naperville city carillonneur and an instructor for the North American Carillon School.  Sleep is serving his third term as president of the Guild of Carillonneurs in North America. He began his carillon studies with Wylie Crawford in Naperville and continued with John Gouwens at the Culver Academies in Culver, Indiana.