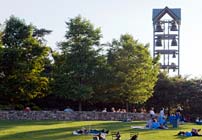 Tim Sleep, Naperville, Illinois
Monday, July 7, 7 p.m.
Preconcert carillon tours and demonstrations 5:30 to 6:30 p.m. (every 15 minutes)
Tim Sleep, city carillonneur of Naperville, performs regularly on the city's Millennium Carillon and in the Rockefeller Memorial Chapel at the University of Chicago. He also performs guest carillon recitals throughout the country. He currently serves as vice president of the Guild of Carillonneurs in North America, and was previously its corresponding secretary. He is a board member and secretary of the Millennium Carillon Foundation in Naperville. He became a member of the Guild of Carillonneurs in 2004. A retired band director and middle school principal, he is a long-time church musician, currently serving as organist for Knox Presbyterian Church in Naperville. He is also an instructor for the North American Carillon School.