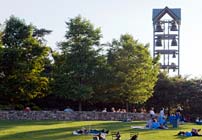 Tim Sleep
Monday, August 17, 7 p.m.
Preconcert carillon tours and demonstrations 5:30 to 6:30 p.m. (every 15 minutes)
Tim Sleep was appointed Naperville city carillonneur in 2007; he teaches and performs regularly on the Millennium Carillon in Naperville, Illinois. He is an instructor for the North American Carillon School. Sleep is in his second term as president of the Guild of Carillonneurs in North America (GCNA), having previously served as its vice president. He is a board member and secretary of the Millennium Carillon Foundation in Naperville.
He began his carillon studies with Wylie Crawford in Naperville and continued with John Gouwens at the Culver Academies in Culver, Indiana, becoming a carillonneur member of the Guild of Carillonneurs in North America in 2004. He has a bachelor's degree in music education from North Central College in Naperville and a master of science in educational administration from Northern Illinois University in DeKalb, Illinois. A retired band director and middle school principal, he is a long-time church musician, currently serving as organist for Knox Presbyterian Church in Naperville.