Carillonneur Bernard Winsemius
Monday, July 1, 2019 7 – 8 p.m.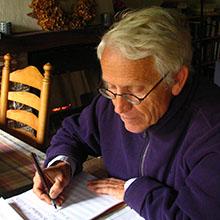 Bernard Winsemius studied the organ with Anthon van der Horst and Albert de Klerk at the Amsterdam Conservatory. In addition, he studied the carillon at the Nederlandse Beiaardschool (Dutch Carillon School) in Amersfoort. His study was crowned with the Prix d'Excellence for organ (1970) and carillon (1971). He was awarded the Zilveren Vriendenkrans (Friends' Silver Wreath) by the Vereniging Vrienden van het Concertgebouworkest (Society of Friends of the Concertgebouw Orchestra) in 1971. For years, Winsemius taught organ at the Rotterdam Conservatory and carillon at the Dutch Carillon School. He has given master classes all over the world (including Prague, Toulouse, London, Oslo, and Rome) and has been a regular teacher at the International Organ Academy, in Haarlem. He is emeritus city carillonneur of Haarlem and Amsterdam. Nowadays, he is active as a freelance carillonneur. 
Download a program for Bernard Winsemius's performance.
Preconcert carillon tours and demonstrations are from 5:30 to 6:30 p.m. (every 15 minutes), and concerts are from 7 to 8 p.m.