Carillonneur Bob van der Linde
Monday, August 6, 7 p.m.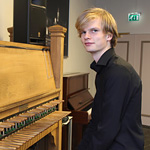 Bob van der Linde received his first organ lessons from Roy Kroezen in Zwolle. He received a bachelor's degree in 2017 and is studying for his master's degree in organ and church music at the HKU University of the Arts in Utrecht, the Netherlands, and carillon at the Netherlands Carillon School in Amersfoort. He won prizes in carillon competitions in Goes, Breda, and Springfield. Bob is organist/conductor at the Old-Catholic Church in Hilversum and the Anglican Church in Zwolle, and his newest position is as city carillonneur of the Eusebius tower in Arnhem.