A Celebration for the Farm on Ogden
On a bright, sunny Saturday in June, more than 1,500 people came to see just what was happening inside the renovated paint store along Ogden Avenue in the North Lawndale neighborhood of Chicago.
It was the opening weekend for the Farm on Ogden, a joint project between the Chicago Botanic Garden and Lawndale Christian Health Center (LCHC) that brings food, health, and jobs together under one roof. Visitors explored the 7,300-square-foot greenhouse, marveled in the blue-purple glow of the 50,000-gallon aquaponics system, and picked up vegetables grown in the corner Windy City Harvest Youth Farm.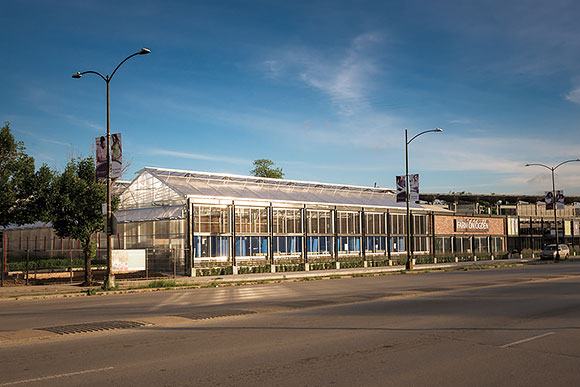 The new Farm on Ogden—a renovated building that was once a Sherwin-Williams paint store in North Lawndale—brings health, food, and jobs together in one location.
Autumn Berg, a North Lawndale resident for 17 years, could barely contain her emotions. "I've never been more excited about my neighborhood in my life," she said.
The day before, Garden President and CEO Jean M. Franczyk thanked the many donors and partners for their generous support and steadfast belief that growing food locally makes for healthier individuals and communities. Speakers included Illinois U.S. Senator Dick Durbin, Cook County Board President Toni Preckwinkle, and Alderman Michael Scott, Jr. (24th).
"For a corner that needs economic development, it's everything a community could ask for. I'm just so happy the Garden has decided to invest in a community like North Lawndale," said Scott.
Here's a look inside the Farm, which will be managed by Windy City Harvest, the Garden's urban agriculture program, in partnership with LCHC.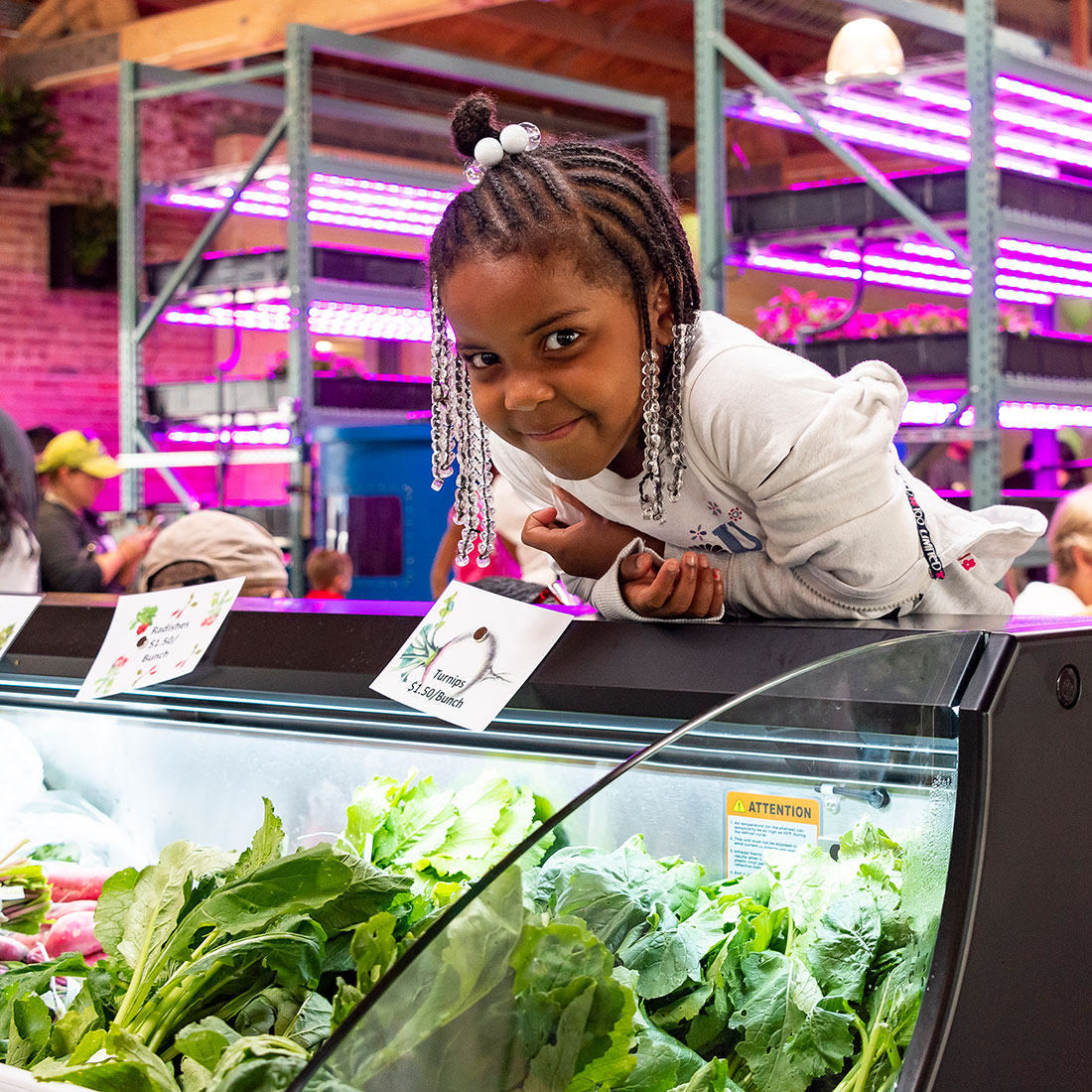 The indoor market and farm stand at the Farm on Ogden will provide fresh, affordable produce year-round.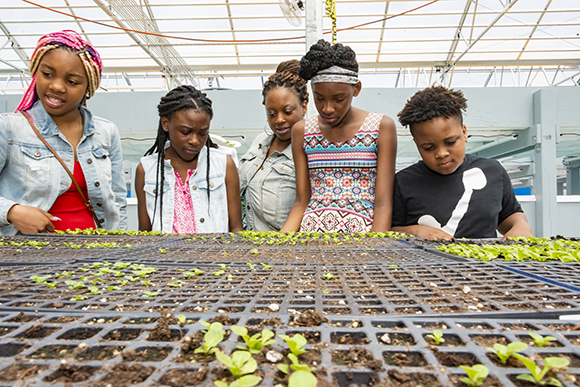 Interested people and community members toured the 7,300-square-foot greenhouse, which will grow seasonal vegetables and fruits year-round.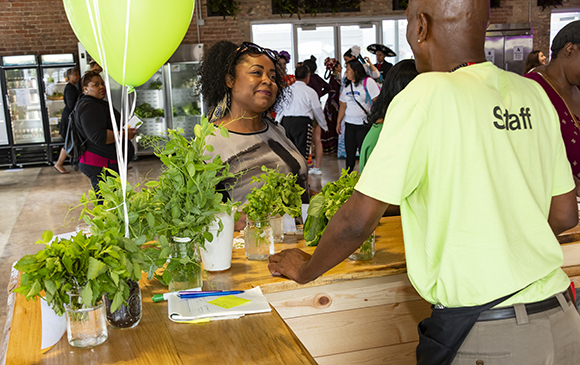 Nearly 1,500 people attended the Farm on Ogden opening celebration on Saturday, June 23.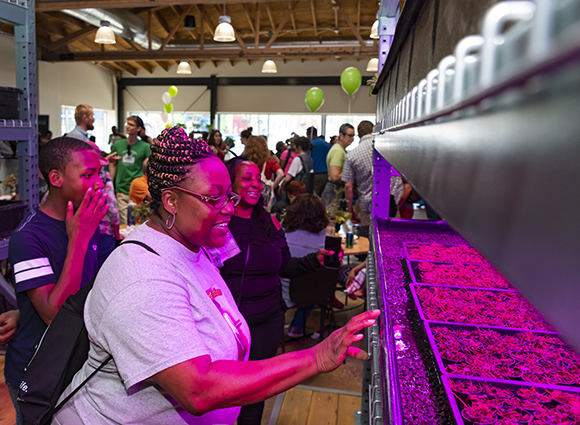 The neon glow of the purple grow lights drew people toward the 50,000-gallon aquaponics system, which will produce 2,500 heads of lettuce every week, year-round, and 14,000 pounds of tilapia a year.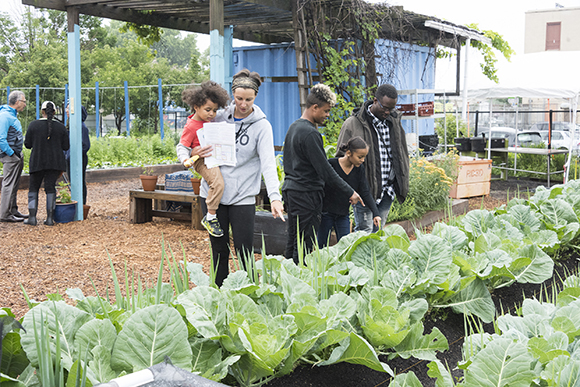 Outside, people admired giant lettuce leaves growing in the Windy City Harvest Youth Farm: a space for teens to learn—and earn—through sustainable growing, healthy cooking and eating, and farm-stand selling.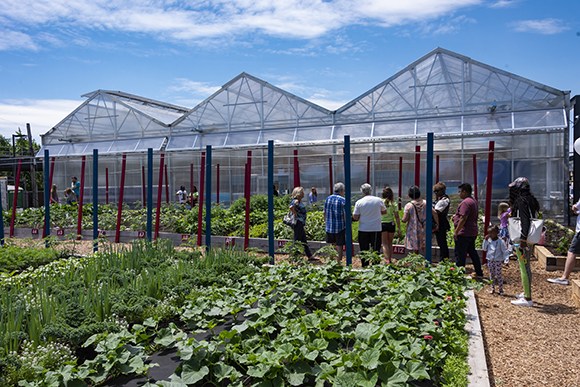 The Farm on Ogden also serves as a distribution center for Veggie Rx, a cooperative program that delivers boxes of fresh produce and offers nutrition education and cooking lessons to Lawndale Christian Health Center patients.
Learn more about the Farm on Ogden.