Time to Uncover the Rose Garden
Who doesn't love a warm winter blanket? When unseasonably cold temperatures continue into early April, that blanket can be especially welcome. If you are like me, though, you just can't wait for that first day when you lose the covers and open the windows. It is that breath of fresh air that tells us summer is just around the corner.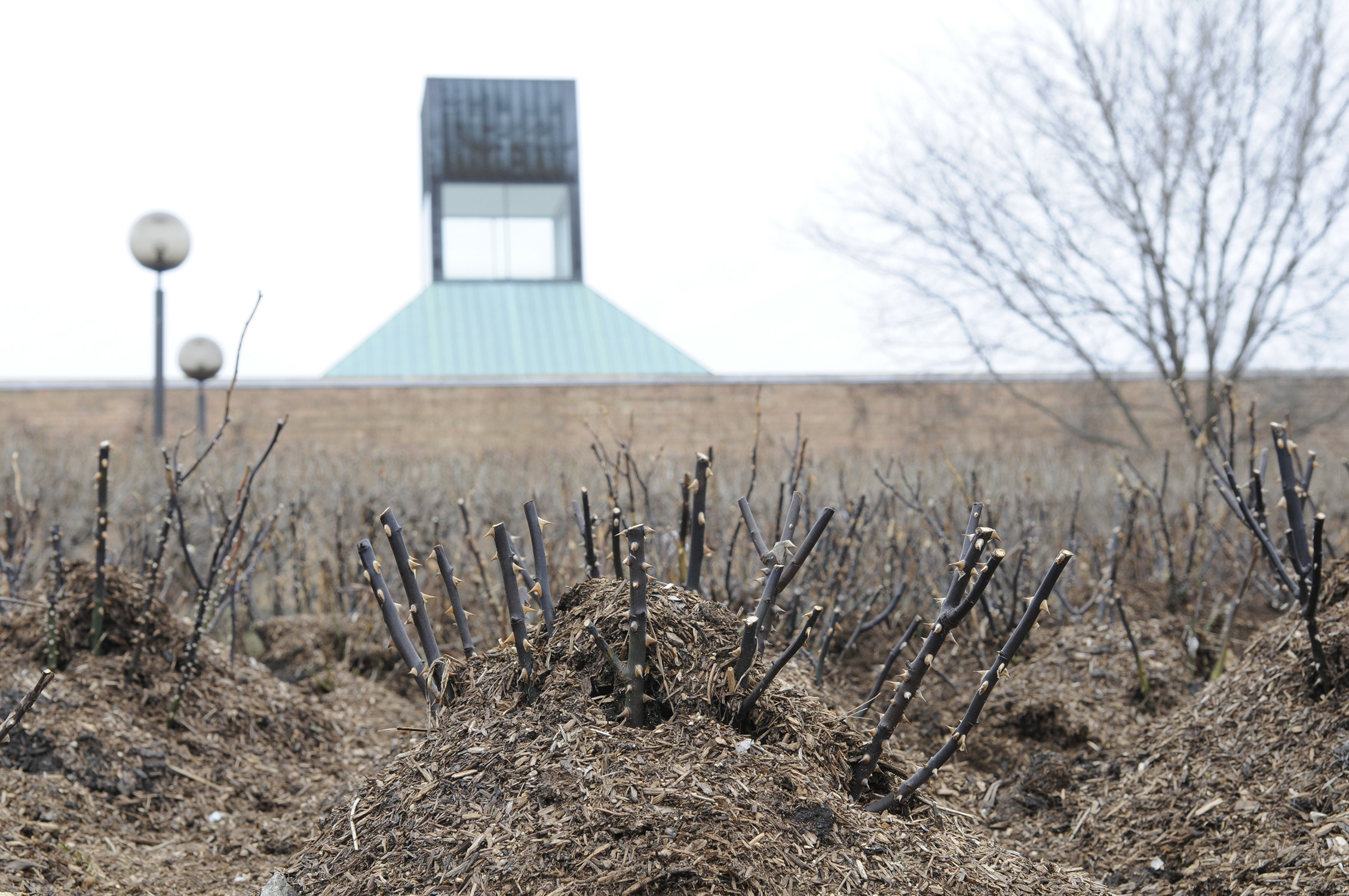 Roses under a warm winter blanket of mulch.
Our Krasberg Rose Garden is ready for its breath of fresh air, too. All winter, many of our roses have been under their warm blanket of composted horse manure. Compost protects roses from the harsh winter winds and freeze and thaw cycles that can be deadly to many cultivars.
As the hours of sunlight increase and daytime temperatures get warmer, however, we need to start inspecting our roses for signs that it is time to remove the compost and prepare the roses for the beauty yet to come.
The process is fairly straightforward. In late March, or whenever we have had several warm days with limited risk of a killing frost, we use our hands to carefully remove the thawed compost from around a rose bush. We need to inspect several bushes because some areas of our Garden thaw and start actively growing earlier than others.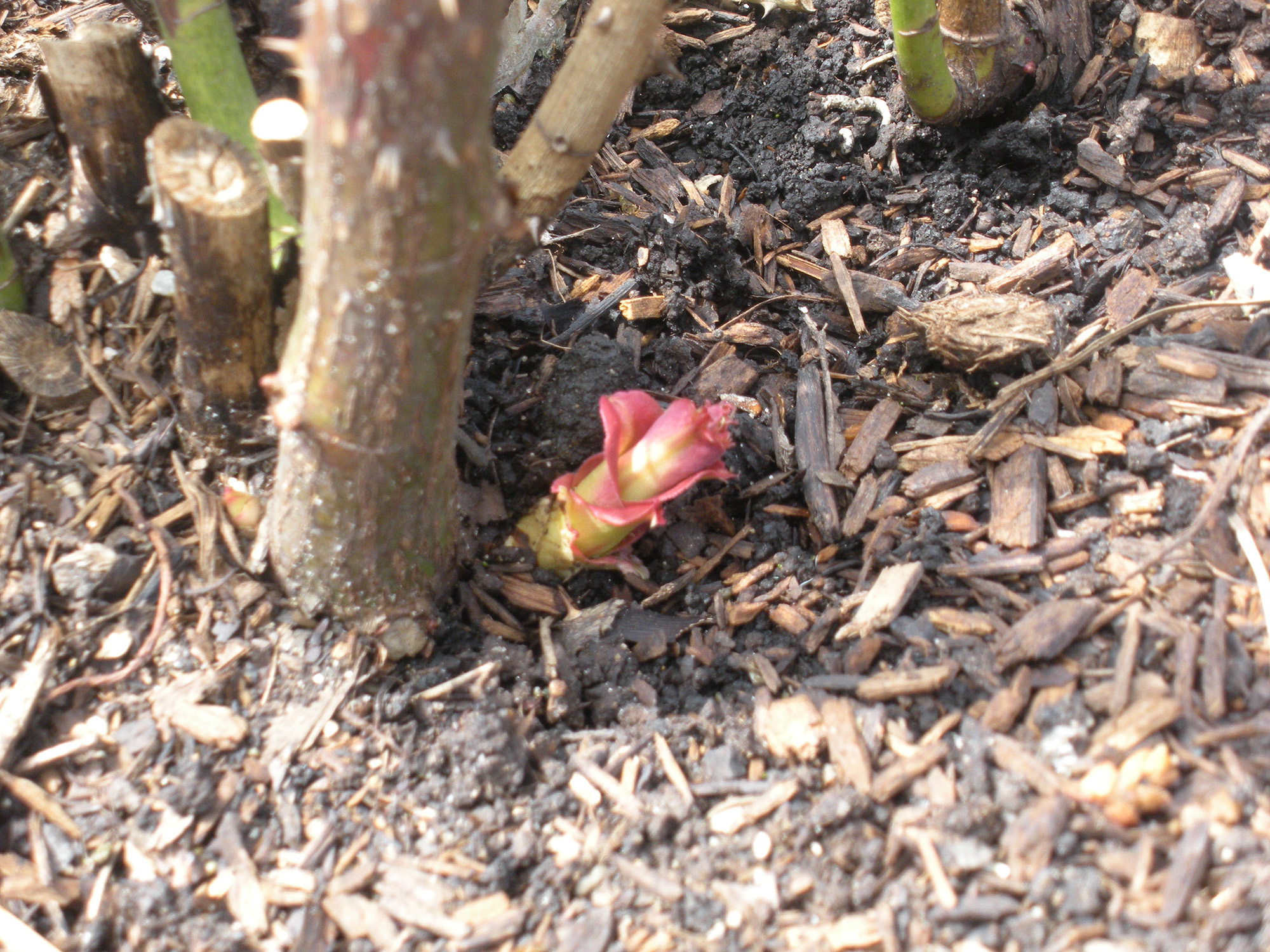 New growth from the base of the plant.
We look for yellow, bright green, or reddish growth around the base of the plant—these are new rose canes. If we do not see any new growth or if new growth is still very small, we may cover the roses for a few more days. The warm compost encourages rose bushes to break dormancy.
However, if we see new growth and it is an inch or longer, then is it time to completely remove the compost and let the canes grow freely. The sooner this new growth begins to photosynthesize in the sun, the healthier and stronger your plant will be for the rest of season. Remember that this new growth is very fragile, so we use gentle care when removing the compost.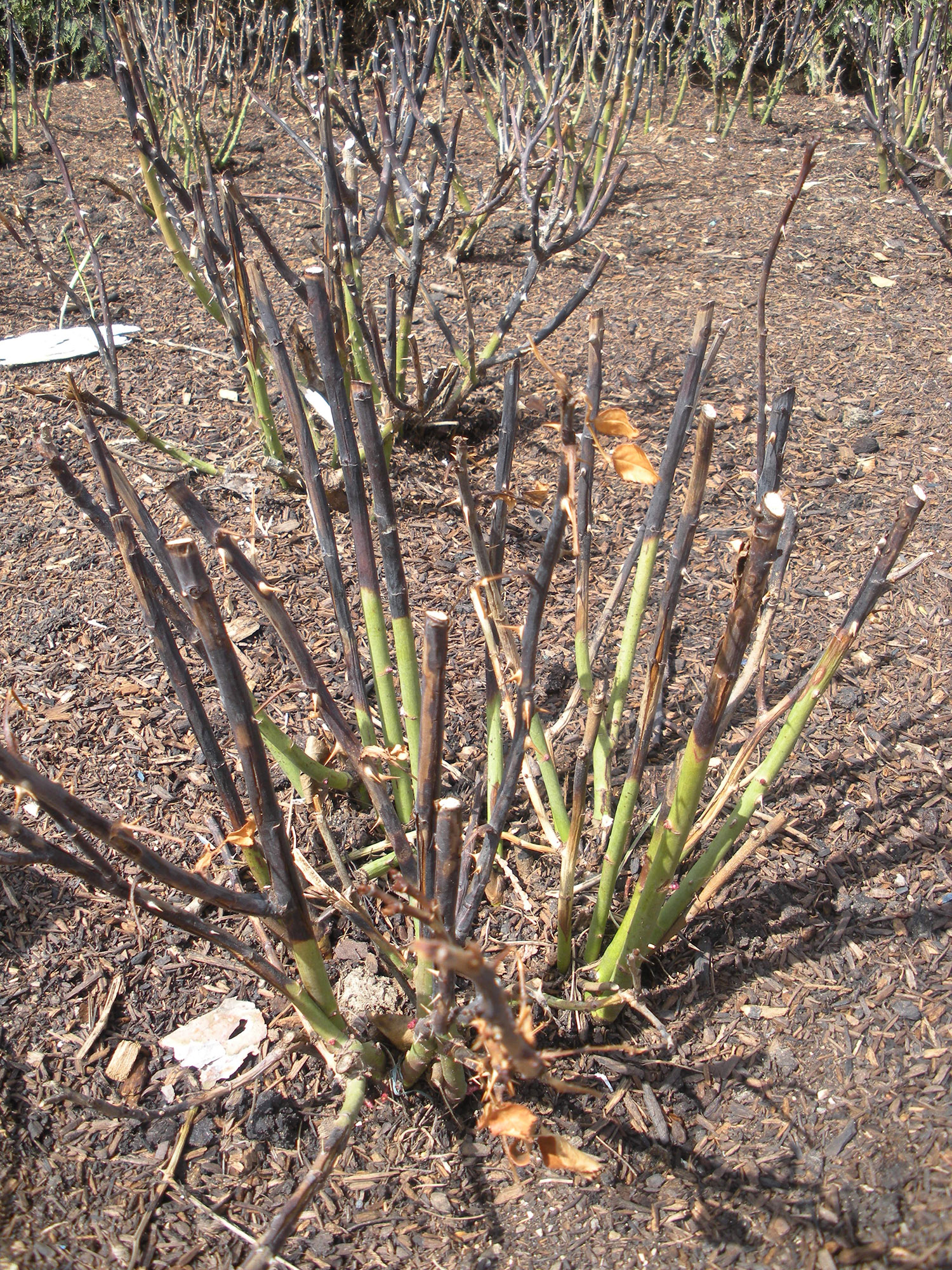 Look for black canes that indicate they are dead.
Once we remove the compost, our team then prunes the canes for optimum health. We first remove any cane that is black or brown—these are dead or dying—and anything that looks diseased.
From there, we prune the shrub until it has five or six healthy, large canes that are at least the diameter of a pencil. The pruning should result in an open center, with the top bud on each remaining cane facing away from the center of the plant. The open center maximizes the amount of sunshine and air circulation within the plant—important components to plant growth and disease prevention.
We also take time to frequently disinfect our pruning tools as we work through this late-winter chore. Tools can easily transfer diseases from one rose shrub to another, so sanitation is very important. Mix a solution of 10 percent rubbing alcohol or bleach and 90 percent water in a spray bottle to spray on your tools.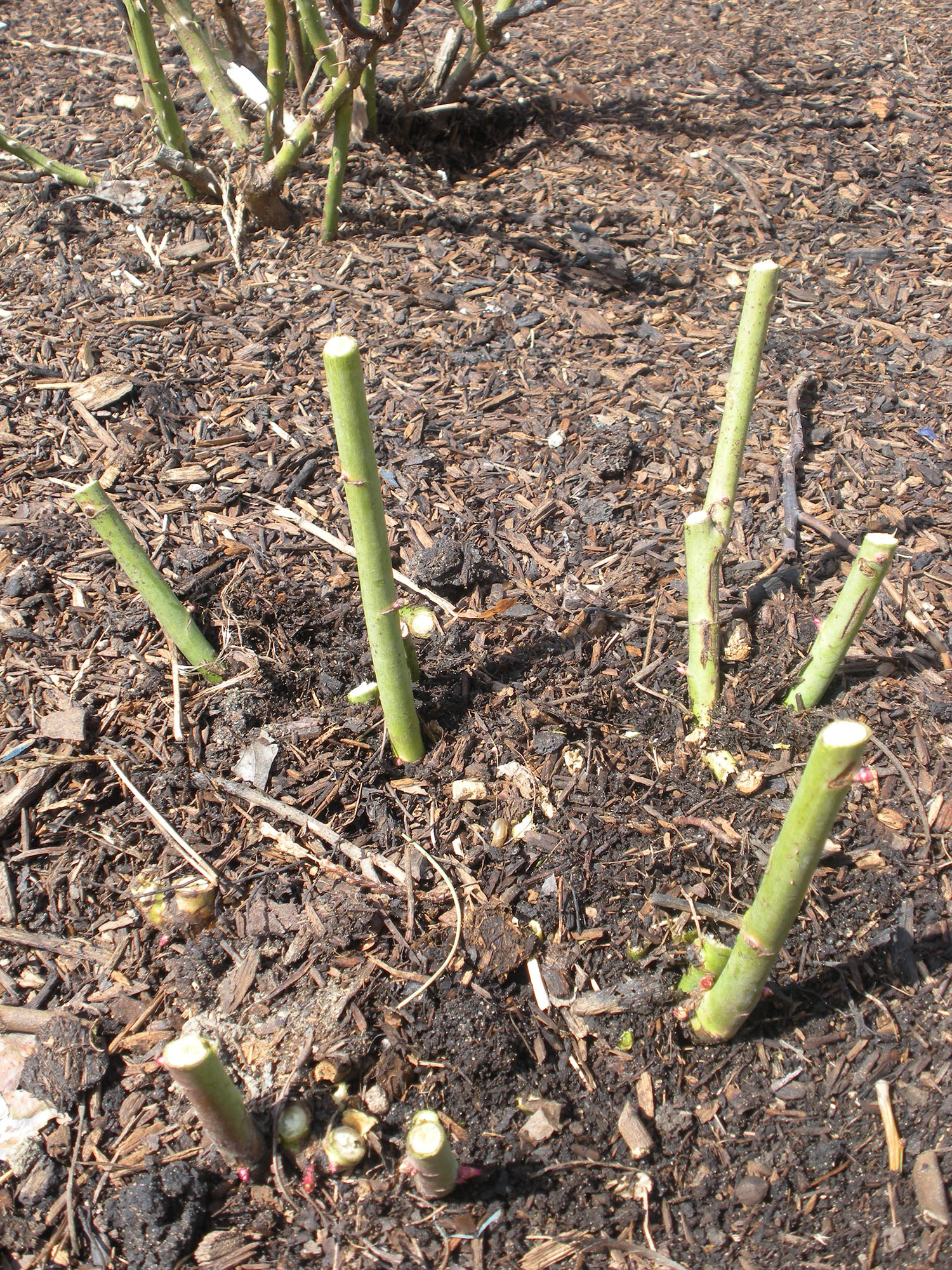 After pruning, the remaining canes look healthy.
By taking a few simple steps like these right now, the rose bushes will be on their way to beautiful blooms in June. Now that's a breath of fresh air.
You can learn more about rose care with a class at the Joseph Regenstein, Jr. School of the Chicago Botanic Garden. See what classes are currently available.