Rising Entrepreneurs
Windy City Harvest's Incubator Program for Beginning Farmers
Launched in 2013, Windy City Harvest's Farm Incubator Program was developed with assistance from the USDA–NIFA (U.S. Department of Agriculture–National Institute of Food and Agriculture) Beginning Farmer and Rancher Development Program. The program's function is to help reduce the risks of starting one's own farming-related enterprise. Incubator farmers are carefully selected each year from applicants who have completed Windy City Harvest's 9-month Sustainable Agriculture Apprenticeship & Sunshine Enterprise's 12-week Community Business Academy. Windy City Harvest has incubated 26 farm businesses, 7 are currently in the program & 11 have graduated to proudly operate independent of Windy City Harvest, supporting our local food system. Incubator farmers are based at Legends Farm in Chicago.

Accepted farm businesses receive:
Incubated Farm Businesses Currently in the Program: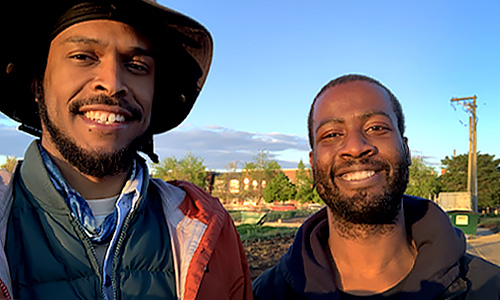 Thriving Soil Farm
Thriving Soil Farm is the culmination of more than 15 years of growing experience, knowledge, and experimentation. All of this has led us to a soil-focused approach to farming that prioritizes supporting soil structure and soil life and straying from N-P-K ratios. With this gentler approach, we hope to have a nourishing effect on our community, using organic standard produce and encouraging a balanced soil biome for those who follow in our footsteps. Follow Thriving Soil Farm on Instagram at @thrivingsoilfarm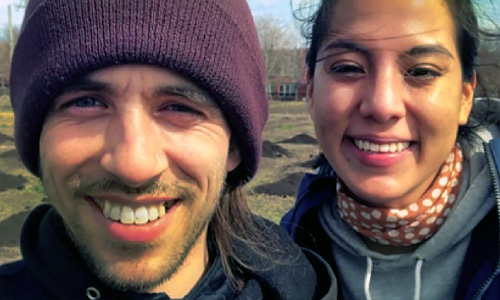 Bridge and Blooms Farm
Bridge & Bloom Farms specializes in vegetables and herbs, and offers a sliding-scale produce box available for delivery that is targeted at underserved communities in urban Chicago. As farmers in the city, we strive to be stewards of the land we work. We use organic farming practices (although we are not certified). All cultivation and harvest are done by hand with simple tools. Some of our crops are donated to the Pilsen Food Pantry. Follow Bridge and Blooms Farms on Instagram @bridgeandbloomsfarms or visit bridgeandbloomfarms.com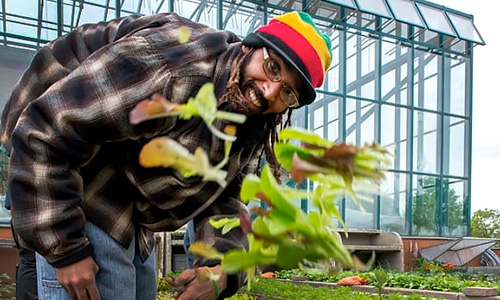 Good Vibes Farm
Good Vibes Farm is a quarter-acre production farm located at 4500 S. Federal Street in Chicago, Illinois. Markets include a CSA and farmers' market, and we also make produce available to Midwest Foods for wholesale. The mission of Good Vibes is to spread good and positive feelings with open arms to the community and their members, providing delicious and nutritious fresh produce from the farm directly into their hands while also educating and raising awareness of a healthy mind, body, and soul. For more information, contact Clinton at goodvibes18@gmail.com and follow us on Instagram @goodvibesfarm2018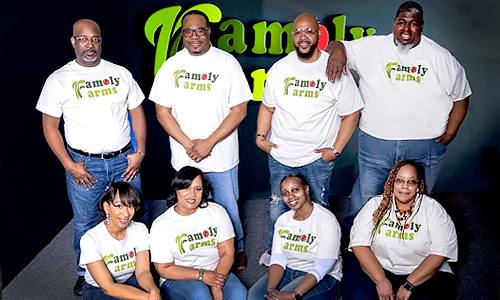 One Family Farms
One Family Farms is strategically strengthening families one seed at a time. Our aim is to seed empowerment and education. We emphasize stability from the farm to the family table with our communities, chefs, and caretakers of our food systems. Follow One Family Farms on Instagram @1_familyfarms or visit 1familyfarms.com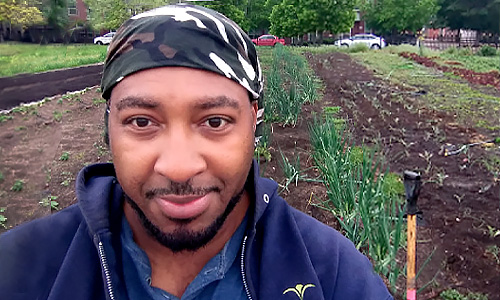 Chicago Urban Farm Solutions
My name is Deshawn Willingham. I am a Windy City Harvest affiliate and graduate of the apprenticeship program. I am the owner of Chicago Urban Farm Solutions, which is a farm business with the mission to provide fresh produce to underserved communities.
My experience with WCH was my introduction to urban farming. It instilled in me a love of nature and the ability to produce organically grown food in significant quantities, in a sustainable way. I have always had a strong sense of the need for social justice initiatives and the desire to get involved and do a small part to contribute. I believe that combining this with the skills and education I obtained from WCH, I have found a way to make my contribution. I love growing sustainably, and will continue to do so in some capacity for the rest of my life. For more information, contact Deshawn at deshawnwillingham@ymail.com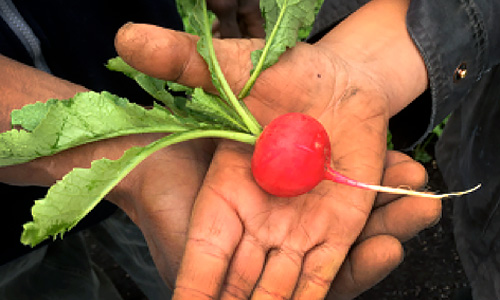 RELISH Chicago
RELISH partners Lawrence Riley and Mandy Penksa—with more than ten years of combined growing experience on production, educational, community-based, rooftop, aquaponic, and hydroponic farms—recognize how sustainable, hyperlocal agriculture can help combat institutional oppression and disparities especially prevalent in urban areas and even more present amid a global pandemic. It has to be executed not just fairly and equitably but with a goal of serving specifically food-impoverished, BIPOC communities. We are passionate about growing sustainable produce in unconventional and even experimental ways. We also emphasize skill development, teaching nutrition and wellness, community support, and land beautification. Follow Relish Chicago on Instagram @relishchicagofarm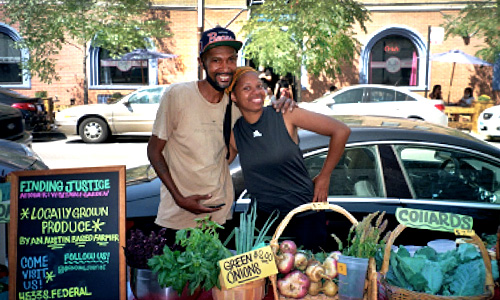 Finding Justice
Finding Justice: A Flower and Vegetable Garden is a farm business managed and owned by Lashawn Miller. In memory of our former business partner, Artema Plunkett, we will continue to work to build a better community.
This locally owned farm is committed to growing and selling sustainable, Chicago-grown produce and flowers while making our products accessible to food-desert communities so people can live healthier lives. We strive to value the land, our customers, and ourselves through sustainable, equitable, and affordable growing methods and sales practices. In this fast-paced world, it is difficult to make time for everything we value. Today's conscious consumers want to use their purchasing power to reinforce their values. Healthy, local, and sustainably produced food is something that consumers are seeking. Follow Finding Justice on Instagram @findingjusticegarden
Former incubated businesses currently operating on their own:
Cedillo's Fresh Produce
@CedillosFreshProduce
Field and Florist
fieldandflorist.com
Garfield Produce Company
@GarfieldProduce
Hinata Farms
hinatafarms.com
Just Roots Chicago
justrootschicago.org
Lightly Farmed
@lightly_farmed
Nodding Onion Farm
noddingonionfarm.com
Planted Chicago LLC
plantedchicago.com
Smooth and Social Roots
@smoothandsocialroots
Your Bountiful Harvest Farm
yourbountifulharvest.com