Rising Entrepreneurs
Windy City Harvest's Incubator Program for Beginning Farmers
Launched in 2013, Windy City Harvest's Farm Incubator Program was developed with assistance from the USDA–NIFA (U.S. Department of Agriculture–National Institute of Food and Agriculture) Beginning Farmer and Rancher Development Program. The program's function is to help reduce the risks related to starting one's own farming-related enterprise. Incubator farmers are carefully selected each year from student applicants who have completed Windy City Harvest's Apprenticeship and 14-week Business and Entrepreneurship for Local Foods course. In 2016, the Farm Incubator Program received an award from the U.S. Small Business Administration Growth Accelerator Fund Competition in recognition of its training and support for urban farm entrepreneurs. Windy City Harvest has incubated 14 businesses since 2015. Incubator farmers are based at Legends Farm in Chicago.
Accepted farm businesses receive:
a two-year maximum low-cost lease
⅛- to ¼-acre of ready-to-farm land
mentoring support and technical assistance
access to tools and equipment, a GAP (Good Agricultural Practices)-compliant processing facility, and irrigation 
shared access to markets
Incubated Farm Businesses
Businesses currently in the Incubator Program:
Good Vibes
Good Vibes Farm is a produce farm partnership between Clinton Coats and Sandra McCloud. Graduates of the 2016 Windy City Harvest Apprenticeship program, Coats and McCloud are enthusiastic, experienced individuals with colorful backgrounds who are on a mission to spread positive feelings with open arms and a smile to the community and their CSA members. They provide fresh, nutritious produce that includes a variety of crops in vibrant colors. Their plants are grown sustainably in organic compost, without toxic pesticides or synthetic fertilizers, and they are dedicated to delivering quality produce with a customer service guarantee.
Just Roots
Just Roots is a nonprofit organization started by Sabrina Poulin and Sean Ruane. The mission of Just Roots is to create pathways that empower people of all backgrounds to access local, sustainably grown produce. They do this by partnering with south-side educational organizations to offer programming to help community members access produce, develop farming skills, and make healthier food choices. They also run a small community-supported agriculture (CSA) program that is open to people throughout Chicago.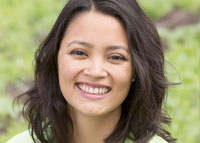 Lightly Farmed
Lucía León is a 2015 graduate of the Windy City Harvest Apprenticeship program and sole proprietor of Lightly Farmed, which launched in 2017. Lightly Farmed's primary markets are a community-supported agriculture (CSA) and Midwest Foods. Through the CSA, León hopes to support people doing beautiful things in Chicago, especially people of color who work for and in their communities. The mission of the farm is to provide healing and energy to people through food so they can continue to heal themselves and their communities. This year she hopes to expand her CSA, grow more culturally relevant foods, and connect with more people around land and food.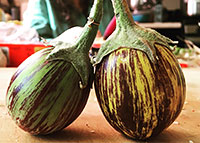 Nodding Onion Farm
Nodding Onion Farm is a worker-owned cooperative comprised of five Windy City Harvest graduates. We believe that food tastes better when it is grown under equitable conditions by valued and invested workers. Our focus is on strengthening workers' rights in the agricultural industry while providing healthy, local produce. We have a particular interest in historically significant varieties of common favorites. We offer weekly and bi-weekly CSA subscriptions to families and households throughout Chicago and Oak Park. We also offer contracts for restaurants that create customized crop lists based on the restaurant's menu and needs.
Former incubated businesses currently operating on their own:
Alchemy Farm
Anarchy Organic
Cedillo's Fresh Produce (facebook.com/CedillosFreshProduce)
Creciendo Farms
Dirt Doll (facebook.com/dirtdollchi)
Field and Florist (fieldandflorist.com)
Garfield Produce Company (facebook.com/GarfieldProduce)
Mycofloral Farm
Petrichor Culinary Garden
Planted Chicago (plantedchicago.com)
Return to Life Farm
Sweet Pea and Friends
Your Bountiful Harvest (yourbountifulharvest.wixsite.com/yourbountifulharvest)