Rising Entrepreneurs
Windy City Harvest's Incubator Program for Beginning Farmers


Launched in 2013, Windy City Harvest's Farm Incubator Program was developed with assistance from the USDA–NIFA (U.S. Department of Agriculture–National Institute of Food and Agriculture) Beginning Farmer and Rancher Development Program. The program's function is to help reduce the risks of starting one's own farming-related enterprise. Incubator farmers are carefully selected each year from student applicants who have completed Windy City Harvest's Apprenticeship and 14-week Business and Entrepreneurship for Local Foods course. In 2016, the Farm Incubator Program received an award from the U.S. Small Business Administration Growth Accelerator Fund Competition in recognition of its training and support for urban farm entrepreneurs. Windy City Harvest has incubated 14 businesses since 2015. Incubator farmers are based at Legends Farm in Chicago.
Accepted farm businesses receive:
a two-year maximum low-cost lease
⅛- to ¼-acre of ready-to-farm land
mentoring support and technical assistance
access to tools and equipment, a GAP (good agricultural practices)-compliant processing facility, and irrigation
shared access to markets
Incubated Farm Businesses
Businesses currently in the Incubator Program: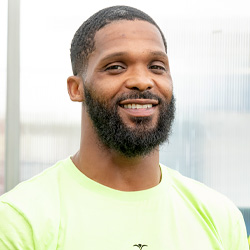 Deeply Rooted
Laquantus Davis is the sole proprietor of Deeply Rooted. His vision is to be a life-changing source of locally grown produce, and Deeply Rooted's goal is to provide access to healthy fruits, edible flowers, and honey using sustainable, organic, growing practices and farm preservation. Deeply Rooted aims to enrich the lives of the communities we serve through healthy eating, fresh food availability, economic development, and hands-on education. Our urban agriculture will increase diversity while raising awareness of health and wellness. For more information about Deeply Rooted, contact Laquantus Davis, Click here to show mail address.
Just Roots
Just Roots Chicago is a nonprofit organization owned and co-managed by Sean Ruane (2017 WCH Apprentice), Lawrence Riley (2017 WCH Corps, 2018 Apprentice, WCH site coordinator), and Ellen Moderhack (WCH volunteer, land surveyor, landscape design). Just Roots was founded in 2018, and their mission is to empower south side communities to develop access to local, sustainably grown food. They carry out this work through sustainable farming, education, and community-building initiatives. Just Roots grows more than 35 different culturally relevant crops and 50 percent of their produce is sold either directly to consumers through their community-supported agriculture (CSA) program or to local health clinics through their Veggie Rx program. The other 50 percent is donated to local food pantries. For more information, visit justrootschicago.org, or send a message to Click here to show mail address.
Finding Justice
Finding Justice is a dual-partnership farm business, managed and owned by Lashawn Miller and Art Plunkett. 
This locally owned farm is committed to growing and selling sustainable, Chicago-grown produce and flowers while making their products accessible to food desert communities so people can live healthier lives. We strive to value the land, our customers, and ourselves through sustainable, equitable, and affordable growing methods and sales practices. In this fast-paced world, it is difficult to make time for everything we value. Today's conscious consumers want to use their purchasing power to reinforce their values. Healthy, local, and sustainably produced food is something that consumers are seeking.
Hinata Farms
Hinata Farms is a Japanese heritage farm located in Chicago, Illinois. Our mission is to provide locally-grown, high-quality Japanese produce for Chicago restaurants and the Chicago-area Japanese community. The farm, founded in 2020, grew from Chicago-born Japanese-American Rachel Nami Kimura's desire to find a connection to nature and her Japanese heritage through growing food. For more information, visit hinatafarms.com or Instagram: @hinatafarms
Good Vibes
Good Vibes Farm/Nodding Onion Farm is a quarter-acre production farm located at 4500 S. Federal Street in Chicago, Illinois. In their third year, Good Vibes Farm grew into a larger team, merging with fellow farmers to expand production and opportunities. Markets include a CSA and farmers' market and we also make produce available to Midwest Foods for wholesale. The mission of Good Vibes is to spread good and positive feelings with open arms to the  community and their members, providing delicious and nutritious fresh produce from the farm directly into their hands while also educating and raising awareness of a healthy mind, body, and soul. For more information, visit noddingonionfarm.com or send a message to Click here to show mail address.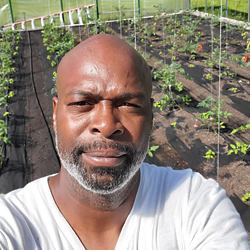 Smooth and Social Roots
Smooth and Social roots is a vision that founder David Edwards had after noticing an ongoing food desert on the south side of Chicago. His vision became to develop a comprehensive food grid while providing an alternative healthy solution for health issues that plague African American communities across America. African Americans don't have the same access to healthy natural foods that other communities have. Smooth and Social Roots is an urban farm that uses organic methods for growing some of the richest produce locally. Smooth and Social Roots assists in the growth and sustainability of the community and the development of local producer's market share. For more information, visit smoothandsocialroots.com or send a message to Click here to show mail address.
Former incubated businesses currently operating on their own:
Field and Florist
fieldandflorist.com

Garfield Produce Company
facebook.com/GarfieldProduce

Your Bountiful Harvest Farm
yourbountifulharvest.wixsite.com/
yourbountifulharvest

Cedillo's Fresh Produce
facebook.com/CedillosFreshProduce

PlantedChicago LLC
plantedchicago.com

Nodding Onion Farm
noddingonionfarm.com
Any Questions?

Contact: Kelly Larsen, Director of Operations