Science Enrichment Program
Science First is a great learning opportunity, a chance to see the Garden's 385 acres of plants and nature, and a great way to meet other science-curious students. Each summer, approximately 40 students from Chicago Public Schools travel to the Garden by school bus from designated stops to spend four weeks being immersed in a free, nature-based, science enrichment program that engages students in a unique, hands-on experience.
About the Program
Each day, Science First students can be seen exploring and learning in the Garden. They hone their observational skills in our display areas, like the Rose Garden or Waterfall Garden; they interview plant geneticists in our research labs; they play educational games to learn about predator-prey relationships; and they conduct quadrat studies in the McDonald Woods or Dixon Prairie. The emphasis is on using the Garden's space and resources to guide their explorations and learning.
While exploring the Garden's natural habitats, students learn about botany and ecology and use the scientific method to answer real-world science problems. Daily activities, directed by a team of science teachers, include hands-on science lessons in the field. Students learn about the Garden's river, prairie, and woodland habitats, touching on topics as varied as genetics, soil ecology, and food webs.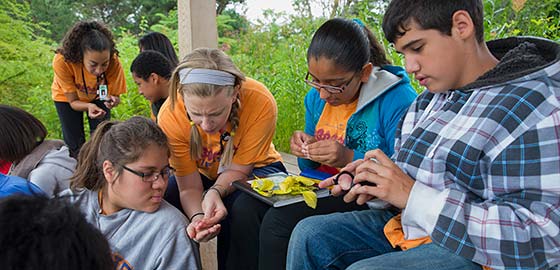 In addition to boosting science knowledge, goals for the program include improving analytical skills needed for scientific inquiry, increasing comfort with science, understanding the role of botanic gardens, and gaining familiarity with careers in the natural sciences.
Presentations
Each session of Science First culminates with a display of student projects. Students who attend our four-week session for new participants design their own botanic garden with native areas and display gardens. Students who attend our four-week session for returning students focus on learning science inquiry and process, and advanced ecology and botany.
After Science First
After completing Science First, students are invited to apply for our College First paid high-school internship program. College First is an extension of Science First but also includes career mentorship with Garden staff and critical assistance in preparation for college.
Please note: Enrollment is limited to students from Chicago Public Schools.
---
For more information about these programs, please call Karen Segura at (847) 835-6871.
What past students have to say
"I loved being outside learning and looking at new things in the garden and learning a lot of science."
"I love this program because it gives me the chance to learn and have fun. I go every year to create more memories, and return to my own little family."
 
"This is my personal thank you. Over the last few years I've lost friends due to crime and violence, friends that I would be hanging out with if I wasn't at your camp. I can truly say I've met new friends and got a head start at school. Your camp has made learning fun for me. Without it, I don't know where I'd be. You've touched me and my education greatly, and I hope you can do it for others for many years to come."
 
---
The Science Career Continuum is made possible by the generous support of an anonymous donor, Alvin H. Baum Family Fund, William J. Clancy Foundation, Discover Financial Services, Lloyd A. Fry Foundation, The Handelsman Family Foundation, Bertha Lebus Charitable Trust, Mazza Foundation, and The Trillium Foundation.