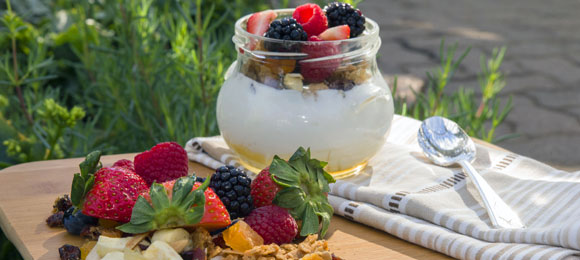 Click here to view the Garden View Café menu.
Exciting changes have come to the Garden View Café! The complete renovation of the Café has enhanced the Chicago Botanic Garden's ability to offer fresh, local food and drink in a welcoming dining environment. According to Harriet Resnick, vice president of visitor experience and business development, "The goal was to create a café that better reflects the amazing Garden experience for our visitors."
The Garden's bright, welcoming design aesthetic is reflected in the new space, which features sustainable architectural materials and LED lighting in keeping with the Garden's mission. The Café needs to be more efficient as the number of visitors increases, including visitors of all generations and abilities. A goal of the Garden's strategic plan is to make eating at the Garden as comfortable as strolling through the Garden.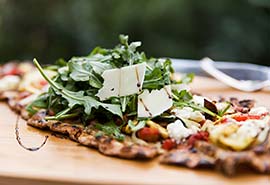 The new Garden View Café has an enlarged food-preparation area to allow for fresh, seasonal meals and snacks. It features new ADA* accessible, ergonomic furniture. In addition to new tables and chairs, there are seating booths for visitors seeking more private meal space, giving the Café more of a restaurant atmosphere.

The Café also offers a "quick casual" style, replacing the cafeteria lines with five points of service where visitors both order and pay. Visitors receive a buzzer after placing orders; this allows people with children, babies in strollers, or anyone with mobility challenges to be seated, while one member of the group retrieves the order. One of the unique new aspects of the Garden View Café is an entire barista station with a cooler for hot and cold beverages.
Sodexo remains the Café's food provider. In 2008, Garden executives chose Sodexo because their quality matches our high standards, and their focus is on seasonal food, sourced locally as much as possible. Our visitors are interested in health and well-being, and their experience in the Café will continue to reflect that same healthy lifestyle.
*ADA refers to the Americans with Disabilities Act of 1990.