Welcome to the Chicago Botanic Garden Press Room. The public relations staff is happy to assist journalists with stories, on-site visits, interviews, experts, and photos.
Featured Expert
Topic: Getting Started with Roses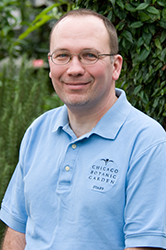 Thomas Soulsby
Senior Horticulturist

It's the perfect time to choose roses for your garden. Soulsby, who is the senior horticulturist for the Krasberg Rose Garden, says home gardeners should select plants based on the level of commitment they prefer. Big, showy roses are impressive, but will require a lot more time and attention. Low-maintenance roses might not have as big of blooms, but are perfect for the casual gardener. Soulsby has many tips on rose care, including selecting the right spot in your garden, when to prune and deadhead, and what to plant alongside roses.