Photographing the Garden in Winter
Spring has its daffodils and tulips. Summer has its roses, perennials, and annuals. Fall launches a season finale with red, orange, gold, and vermillion leaves. But winter offers its own spectacular scenes, according to Robin Carlson, the Garden's photographer. "The display gardens here are irresistible in the summer, but go to the prairie in winter. You'll find milkweed seedpods, grasses, and the giant dried leaves of compass plant and prairie dock, which are cool. Removing distraction can reveal quiet details that are just as joyful as summer's abundance."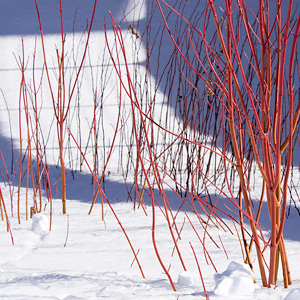 Carlson has photographed crabapple berries coated in ice, and the shadows of branches cast on fresh snow. "One of the things I like about the Garden in winter is the branch patterns and the silhouettes of trees," she said. "The best part of photographing the Garden this time of year is that there's always something to see, something different." Bundle up, grab your camera, and come for a visit.
Composing a winter photo is a lot like writing. There's a story that you tell with the image. "Sometimes ice coats the wintery world and traces the shapes of branches and berries," Carlson said. "Including this phenomenon in your shots adds an element of repetition that can strengthen your composition."
Whether you use a smartphone or a digital camera, understanding basic photo composition can greatly improve your photos, says photography instructor Tobin Fraley. "We tend to block out all of the extraneous material around an object," Fraley said. "A camera, on the other hand, sees everything that is in the frame of the image. These things include the background and foreground, shadows, reflections, tonal variations, the sky and the ground, and anything else that is within the field of view." In other words, look beyond the object and take note of the background details before you click the shutter.
There are 27 gardens and four natural areas to explore and photograph throughout the year. Winter offers a quiet, serene beauty that's unlike any other season. Here are some tips from Carlson and Fraley to enhance your photographic skills.
Look to nature. "The woods and prairie are great because the plants remain all season and are beautiful in every stage of life, even in winter's decay," Carlson said. Take a free, self-guided walk in the woods.
Be observant. "When it's sunny out, the snow picks up warm and cool colors reflected by the sky," Carlson said. Move around and look at an object from different angles. "I like to look at plants from a side view. Isolate the subject against the sky or the snow." She found the ice-encased berries intriguing because of their shapes and color. "I like to let the plant physiology direct the composition. I like the view that best describes the form."
Back up. By including more of the surroundings, the image may become more interesting, Fraley said. "This can mean offsetting your subject so that it's to one side, thereby showing off more of the surrounding area. If you would rather just focus on whatever the subject might be, you can always crop the photo later on, but you can't go back and add more."
Look at structures. "Architecture and sculpture are easily overlooked in summer," Carlson said. In winter, without flowers and foliage to grab your attention, these elements stand out. The metal gates in the Helen and Richard Thomas English Walled Garden are an example. There are many sculptures throughout the display gardens as well, from soaring birds, a giant pumpkin, children and gardeners, to a bear, a sundial, and several contemporary pieces.
Include superfluous details. "We tend not to see things such as shadows or reflections," Fraley said. "Including these kinds of details makes the photo more interesting and gives it depth." Free of their leaves, large espaliered fruit trees in the Regenstein Fruit & Vegetable Garden present big, beefy trunks and horizontal branches all trained in a flat plain, creating interesting shadows in late afternoon.
Follow the flock. "There are always birds at the feeders in the Buehler Enabling Garden," Carlson said. Be patient, be still, and you'll be rewarded with photo opportunities. If you're lucky, you may spot some of the rare winter visitors.
Soothe your cabin fever. "There's nothing to keep you from enjoying the Garden in winter," Carlson said. "A true winter wonderland is very rare—every branch evenly coated in snow as the sun makes everything sparkle—but that's not an excuse for leaving your camera at home." Indeed.
Nina Koziol is a garden writer and horticulturist who lives and gardens in Palos Park, Illinois.