Buy your Lightscape parking in advance and save 50% ($10 in advance, $20 upon arrival at event).
Please buy parking for the same date as your Lightscape tickets.
Valid November 13, 2020 – January 3, 2021 after 4 p.m., during event dates and hours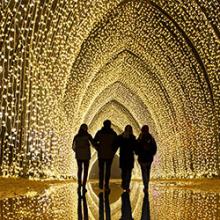 $10 per car (includes tax)

One time use only, no refund.
This parking is only for Lightscape ticket purchasers.
Please note: Complimentary parking for corporate partners, reciprocal members (i.e., Morton Arboretum, Cantigny Park), and teachers does not apply to Lightscape.