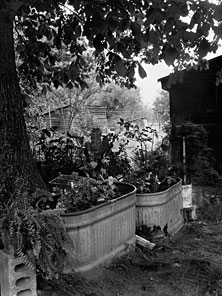 The Garden Shop will also carry the book Places for the Spirit: Traditional African American Gardens by Vaughn Sills, featuring images from the two exhibitions.
Programs in conjunction with exhibition:
GARDEN CHEF SERIES:
WARREN JONES, BLUEGRASS
Saturday, July 21, at 1:30 p.m.
Warren Jones, African American Executive Chef of Bluegrass will be part of our Garden Chef Series during the exhibition.
NATURE NIGHTS:
SCULPTURE SCAVENGER HUNT
Saturday, August 4 or 18,
5 – 7:30 p.m.

Plants and nature often inspire artists. Explore the collection of sculptures hidden throughout the Garden, visit the Places for the Spirit exhibition, create your own sculpture using natural materials, and pot up a sculptural plant to take home.
Note: Don't forget to bring a picnic dinner! Dessert is provided.
Register online for Nature Nights: Sculpture Scavenger Hunt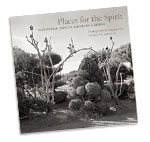 July 14 – September 30, 2012

Joutras Gallery
Enjoy this exhibition featuring African American folk gardens photographed by fine art photographer, Vaughn Sills.
Gardens from Arkansas, Louisiana, Mississippi, Alabama, Georgia, South Carolina and North Carolina are represented along with their creators. In the spirit of "outsider" art traditions, the roots of blues music, and other folk manifestations, these gardens have a unique aesthetic and cultural significance. The gardens are places to socialize and be creative, but they also have mystical purposes: bottles and plant pots are put in tree branches or intentionally placed in the garden to capture evil spirits; pipes are placed vertically in the ground to allow the spirits of ancestors to communicate with the living. In the deceptively casual or whimsical arrangements are subtle and symbolic reminders of the divine in everyday life and the cycles of the natural world.
This exhibition is in collaboration with The DuSable Museum of African American History. The DuSable Museum will be hosting additional photographs in a companion exhibition.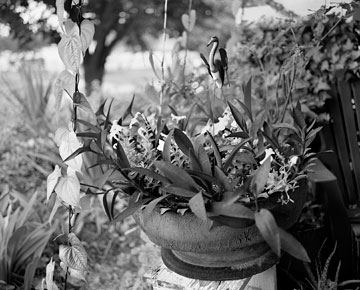 About the artist
Vaughn Sills has exhibited her work in galleries and museums on the East Coast and in the South. Her work is in a number of collections, including DeCordova Museum, Polaroid, Eaton Vance, and Fidelity Investments Collections. Vaughn has received a number of grants — most recently, in 2009, she received an Artist's Fellowship in Photography by the Massachusetts Cultural Council and in 2007, she received a grant from Artadia Dialogue for Art and Culture.
Places for the Spirit, Traditional African American Gardens, published by Trinity University Press, is available for purchase in the Garden Shop.