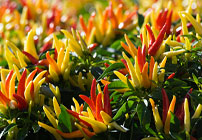 Regenstein Fruit & Vegetable Garden
Sunday, July 30, 2017
11 a.m. – 4 p.m.
Hot or sweet? Peppers are a global favorite to grow at home—no wonder the International Herb Association has designated peppers as Herb of the Year, using the wider definition of an herb as a useful plant.
Sharpen your pepper skills—from sowing to plant care to harvest—at four Pepper Sundays celebrations, one Sunday of each month from May through August. With Chef Series demos, horticulturist tours, volunteer Q&A stations, and Family Drop-in programs, there's something new to do and learn each month.
Vendors will offer plenty of pepper products—and you can compare flavors with pepper-seasoned popcorn at each visit, too.
See 20 varieties of peppers growing—hot and sweet—plus a special collection of peppers growing in containers including the world's hottest pepper—Smokin' Ed's Carolina Reaper
Harvesting tips
Cooking with peppers
Preserving peppers– making pickled peppers
Seed saving!
Pepper tours at 1 and 3:15 p.m. with the Fruit & Vegetable Garden horticulturist (tours last about 20 minutes)
Garden Chef Series demonstrations at 1:30 and 2:30 p.m.
Explore pepper history
Learn how to make your own salsas
Kids' activities: pepper prints, pepper tic-tac-toe, and make a dried pepper mix to take home