Saturday, March 21, 2020, Noon – 4:30 p.m.
Sunday, March 22, 2020, 10 a.m. – 4:30 p.m.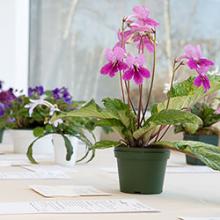 Explore the world of this beautiful indoor plant family, which includes lipstick plant, primrose, and African violets. The show features rare plants, artistic and educational entries, and a sale offering growing supplies and many unusual and difficult-to-find varieties. Learn about and enjoy the beauty of gesneriads, their diversity in flower and foliage, and their ease of culture. It's no wonder that this family includes some of the most popular houseplants.