Saturday, Sunday, and Wednesday
TBD – August 23, 2020
10 a.m. – 1 p.m.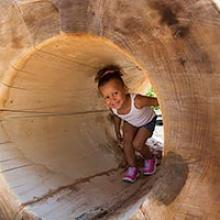 Come visit the Nature Play Garden to roll down the hills, splash in the runnel, and hide in the log tunnels. Every day, June through August, join us for facilitated multi-sensory activities and exploration. Children and caregivers can build forts, engage in creative play with natural materials, and construct cork boats to float down the runnel. Activities vary week to week.
Read books and play at Family Drop-In Activity sites and earn prizes! For details and to sign up, visit the Lenhardt Library in the Regenstein Center. Children of all ages are welcome to participate. Click here for more information.