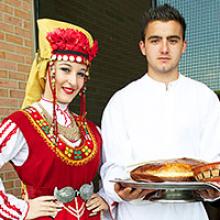 Sunday, September 10, 2017
10 a.m. – 1 p.m.
Family Activities and Workshops in McGinley Pavilion
Interactive workshops:
Dance: Bulgarian folk dances
Art: Bulgarian arts and crafts
Music: Bulgarian folk, classical, and modern music
Language: Write your name in Bulgarian

Exhibitions:
Arts
Books
Historical museum artifacts
Photo exhibition: The Beauty of Bulgaria
Children's arts
Cooking Demonstration in Regenstein Fruit & Vegetable Garden Amphitheater
11 – 11:30 a.m.
Chef demonstration with Daniela Valkanova. Atanas Vulev, founder of Trimona Foods Inc., will be handing out samples of Bulgarian yogurt and pastries.