Behind the Scenes at Asia in Bloom: The Orchid Show
The hand-carved Buddha is in the house. A circa-1850 glazed Chinese jar is filled with green Cymbidium orchids native to Asia. And we're pampering 10,000 other orchids so they'll be in full flower for Asia in Bloom: The Orchid Show.
Lighting crews, horticulturists, and dozens of other staff members are putting the finishing touches on Asia in Bloom: The Orchid Show, the Chicago Botanic Garden's biggest flower exhibition of the year. The Show features sweeps of orchids native to Asia, blooming with color and scent. In our heated greenhouses and galleries, the exhibition runs February 10 to March 25 and kicks off with a Members' Preview night on Friday, February 9.
This year's Orchid Show is infused with a deep sense of history and culture, thanks to our friends at Pagoda Red galleries in Winnetka and Chicago. Pagoda Red loaned us many lovely items—including the circa-1900 Buddha and vintage glazed jar from Shanxi province, China—that helped us bring the theme Asia in Bloom to life.
You'll see Pagoda Red's pieces throughout the Show, as grace notes to the stories and legends we're telling about orchids in Asia. The narrative includes fairies, native headhunters, and the secret ingredient (we cannot vouch for this, sorry) in love potions.  
From dream to reality
Here's a peek at how we make our design ideas happen:  

Gabriel Hutchison's Japanese tea house sketch illustrates his concept for the show.
This idea for an entryway was inspired by a modern Japanese tea house. It started with a sketch by Gabriel Hutchison, the Garden's exhibitions and programs production manager.
Carpentry supervisor Andy Swets built a frame for the tea house and constructed the finished walls.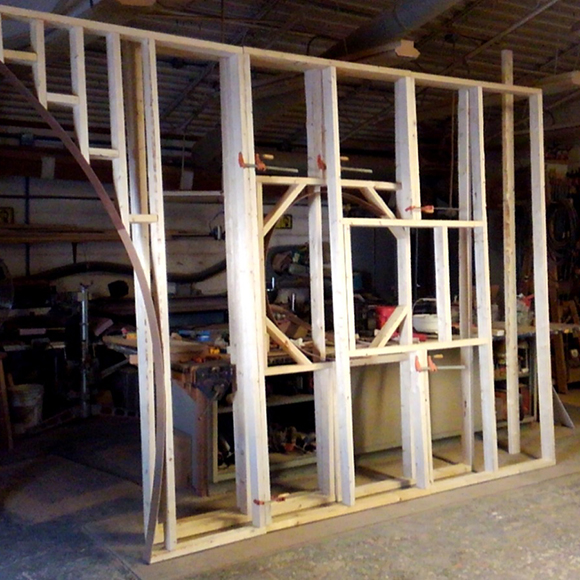 A recessed panel in the frame will house a "window" featuring orchids.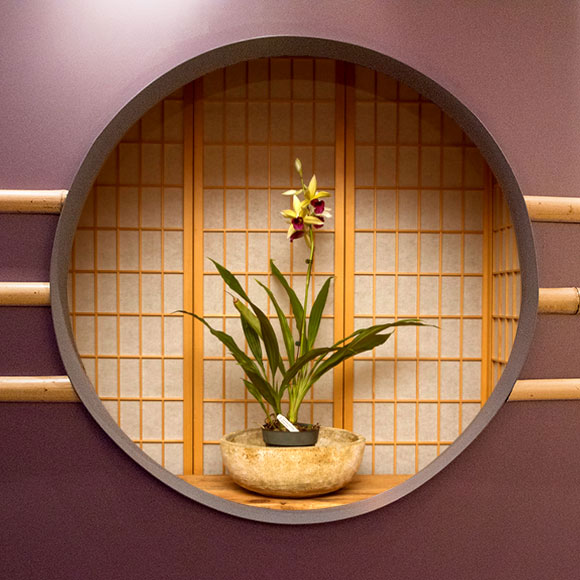 The finished window, backed with shoji screens.
Horticulturist Brian Barker sketched this idea for a Japanese-inspired dry garden surrounded by rolled bamboo walls: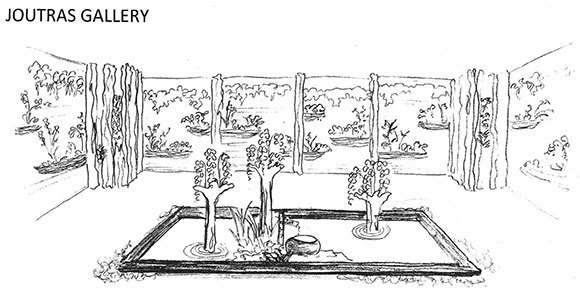 It took three crew members two days to get the rolled bamboo walls just right.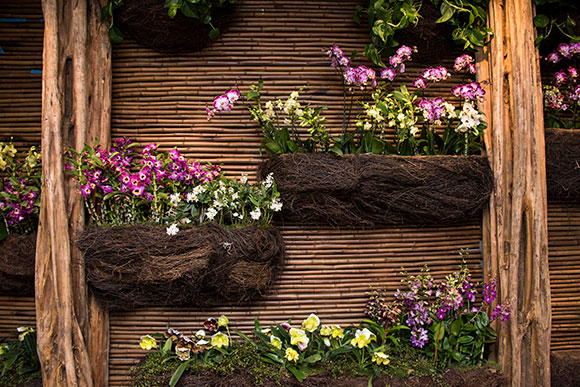 The finished walls support moss baskets filled with orchids native to Asia in the Joutras Gallery.
Brian and senior horticulturist Salina Wunderle also thought it would be cool (pun intended) to shade orchids in the Semitropical Greenhouse with handmade parasols from Myanmar: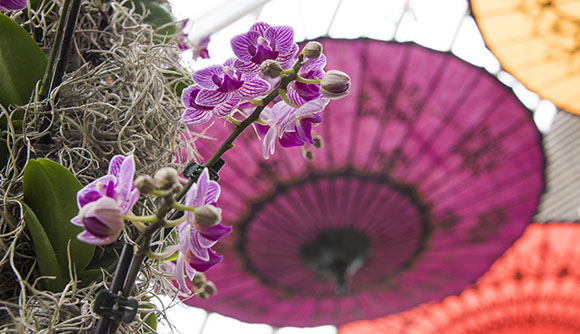 Handmade parasols filter light from the greenhouse roof above the "checkerboard."
Meanwhile, our horticulturists are keeping a close eye on the 10,000 orchids, each of which has its own water, humidity, temperature, and light requirements.
Other new features
New this year is a display of the graceful Japanese flower arrangements known as ikebana, with orchids as the focus. Also new is Orchids After Hours on Thursdays, from 4 to 8 p.m., with Asian beer, sake, sushi, poke bowls, and other light fare for purchase.
Remember that the look of the Orchid Show changes throughout, as new orchids come into bloom and the ikebana displays change. And the Semitropical Greenhouse? You'll get a different view each time, depending on the angle of the winter sun as it shines through the patterned parasols on to the orchids.