Make a Grapefruit Bird Feeder
My daughters love fresh grapefruit—and birds. So we decided to keep the rind and make a bird feeder. This is a fun, easy project.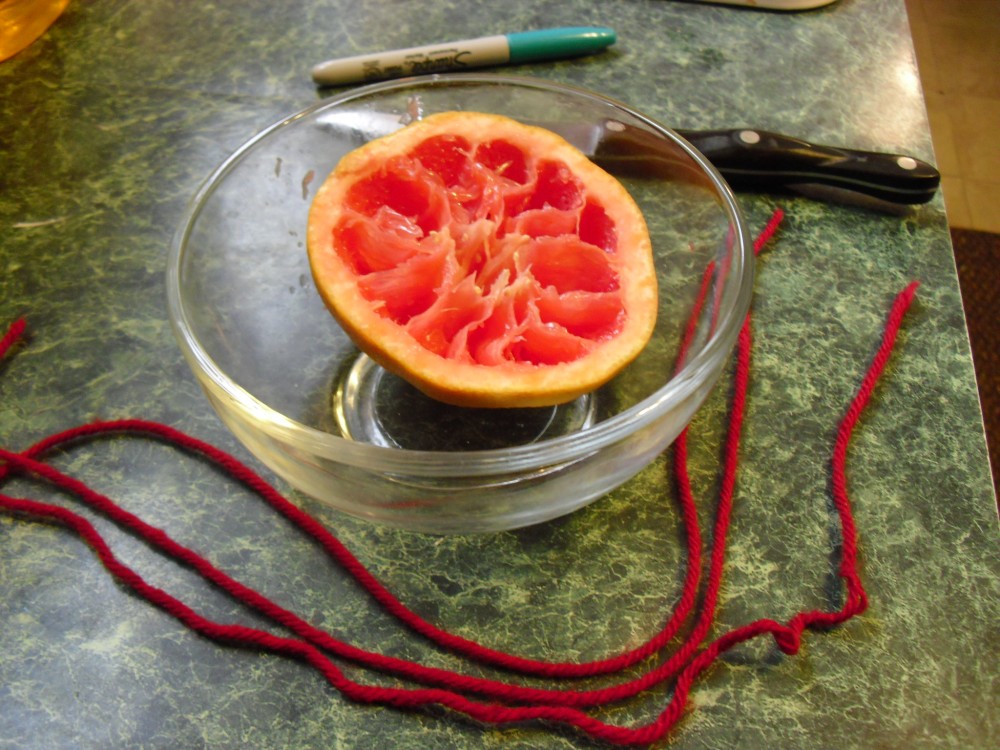 The grapefruit sections have been cut and eaten; the rind is ready to become our bird feeder.
To make a grapefruit bird feeder, you will need the following:
Half a grapefruit rind (you can also use an orange)
Three pieces of yarn, each cut about 18 inches long
A knife, skewer, pointed scissors, or other sharp tool
Birdseed
First, eat the grapefruit and drain the remaining liquid. Then, use the skewer or knife to poke three holes in the grapefruit. They should be about half an inch from the top edge and spaced evenly around the circumference. (Some people do this with four strings, but I find that using three strings makes it easier to balance the fruit.)
Push a piece of yarn through each hole and tie it off.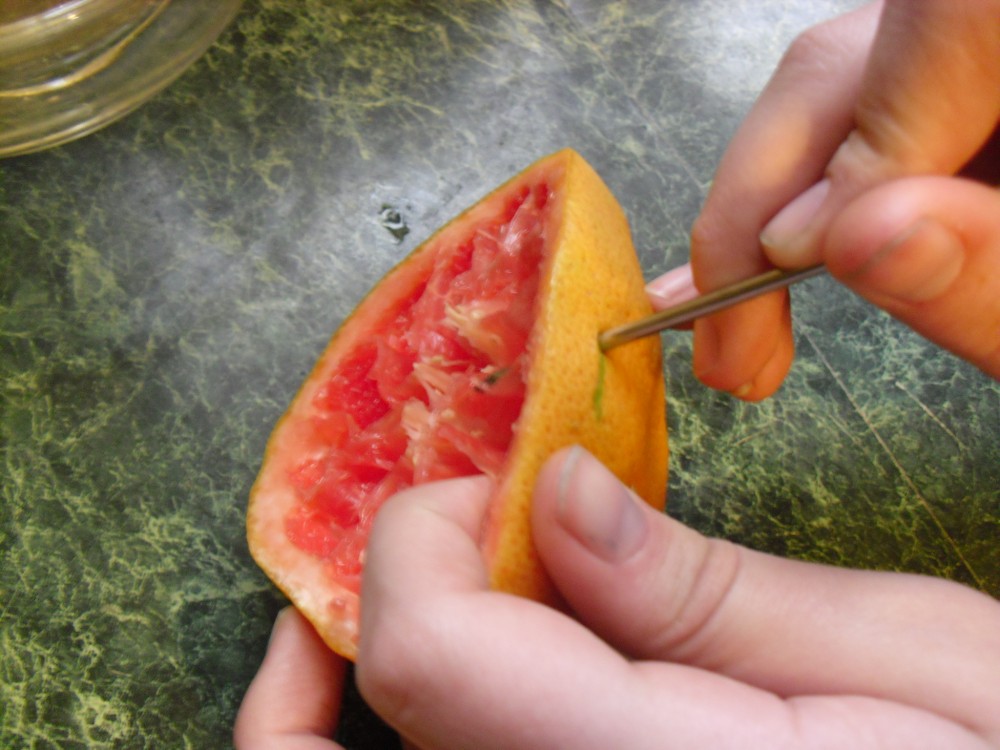 Hold the grapefruit firmly with one hand while you poke the skewer through the rind. Be careful not to poke your finger!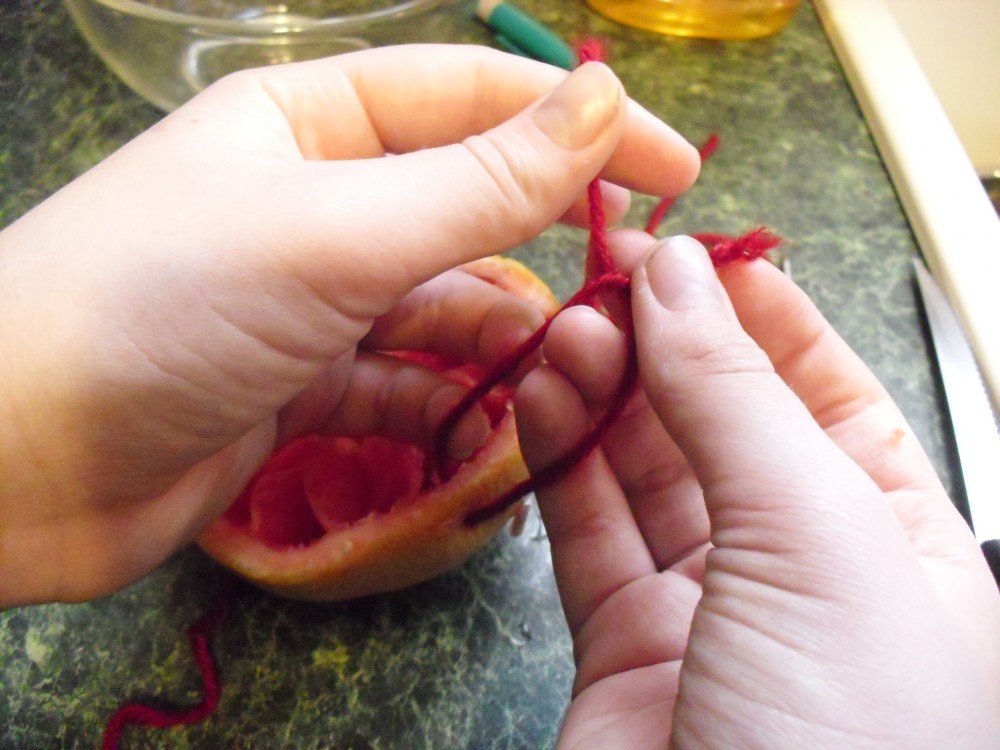 Pull 2-3 inches through the rind and tie the short end to the longer strand.
Hold the grapefruit up by all three strings and adjust the length of the strands so the fruit is not tipping. When it is balanced, knot the strings together about 4 or 5 inches from the top. (The ends will probably be uneven, and that is all right.) Make a loop knot with those top ends, so you will be able to hang it from a branch.
Finally, fill the fruit with birdseed and hang it outside for your feathered friends to enjoy. If you like, you can add a little suet, but you may find it doesn't stick well to the wet fruit. Here in the Chicago area, you'll probably find that most of your winter guests are black-capped chickadees, nuthatches, dark-eyed juncos, common redpolls, and downy or hoary woodpeckers, which balance their primary diet of insects and grubs with bits of suet and sunflower seeds.
One more thing: Make sure it's tied to the branch firmly so that your local (determined) squirrels — who will also find this bird feeder appealing — don't knock it down.
Don't worry if you don't have any visitors the first few days after you've placed your feeder. It can take up to two weeks for birds to discover their new food source, but once they do, they tell all their friends in the neighborhood.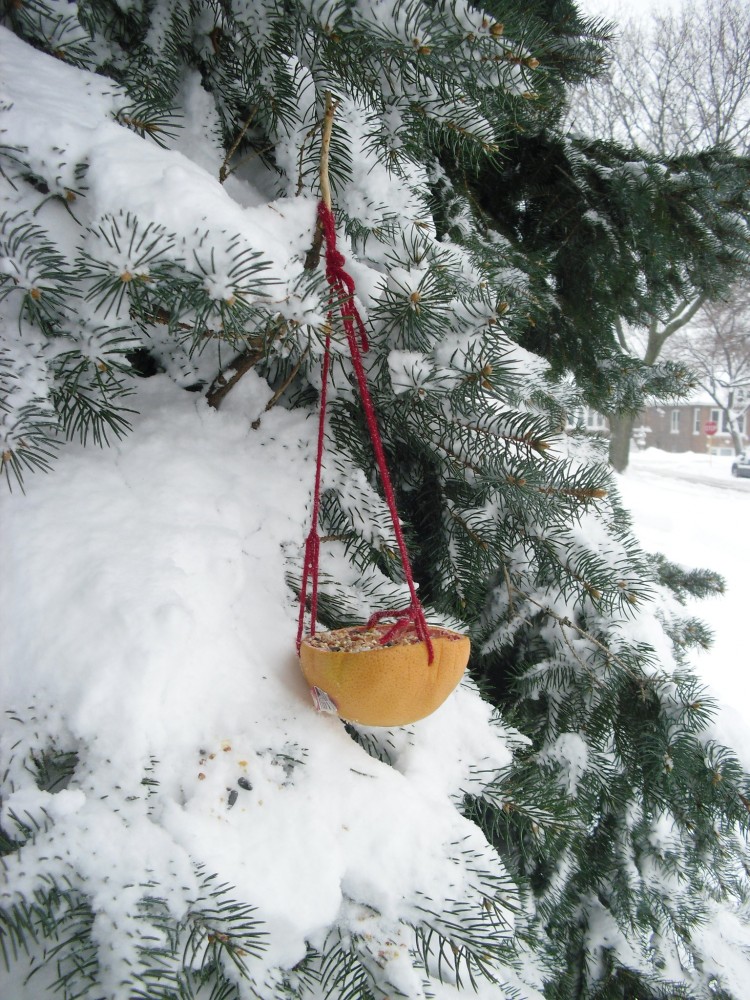 The final product is ready for visitors.
After you hang your bird feeder, take some of the seed and plant it to see what grows. Maybe you can grow your own food for the birds this year!