Miniature flower arrangements offer a charming and whimsical gift for mom, grandma, or anyone special. A nice feature of these tiny bouquets is that you can show off the beauty of small flowers that always sing backup to showier blossoms in large arrangements. Also, you can use aromatic herbs with small leaves as filler greens to add a pleasant scent.
What you need
A cap from a plastic bottle, such as a milk container or soda bottle
Floral foam (the wet kind)
A bunch of small flowers—I used mini-carnations, waxflowers (Chamelaucium uncinatum), and baby's breath (Gypsophila paniculata)
Fresh herbs (thyme, rosemary, and lavender work well because they have stiff stems)
Optional: ribbon for added decoration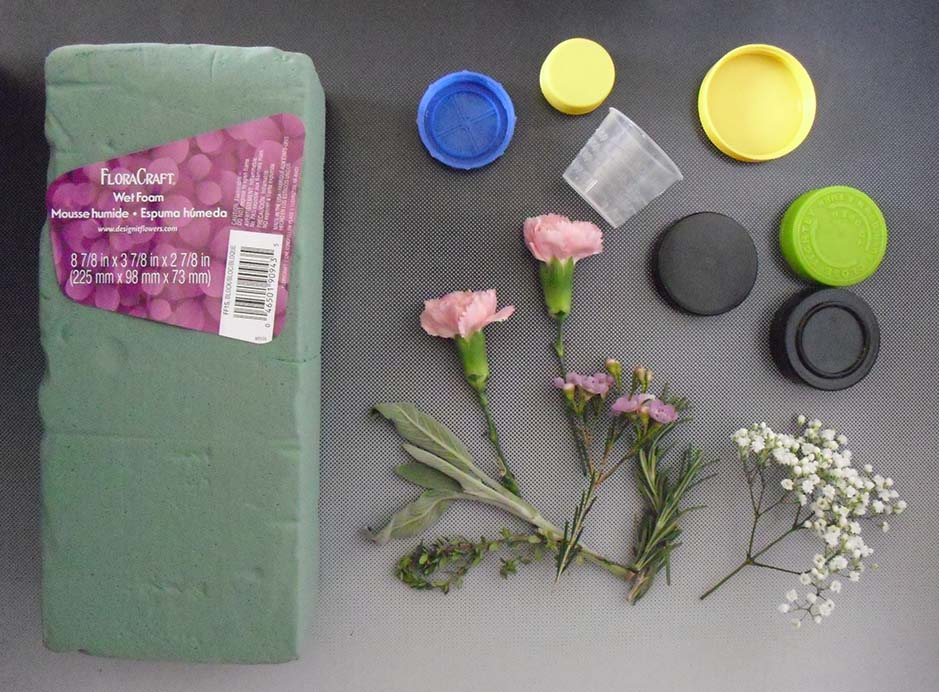 Here are the supplies for creating bottle cap bouquets.
The directions are pretty simple.
Cut the floral foam to fit the inside of the bottle cap. Start a little larger than you need, and then trim it to fit. Push it into the cap. If your cap is narrow, like a milk bottle cap, you may want the foam to be above the level of the cap so there is enough room to hold the flowers. Otherwise, trim the top so the foam does not stick up. Add water to soak the foam.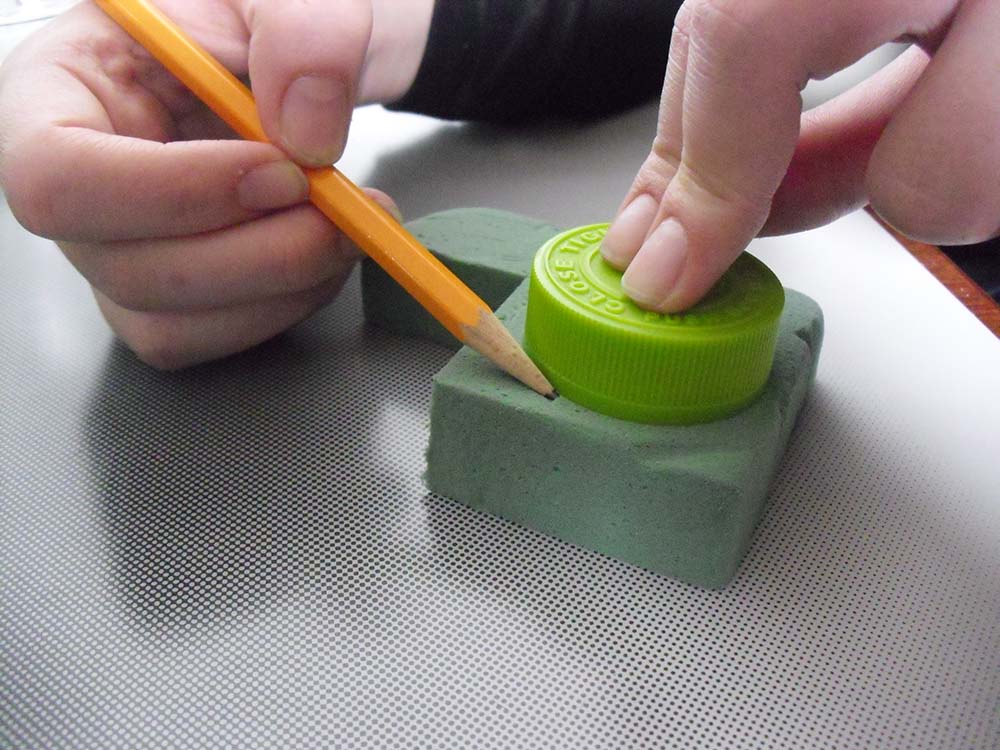 Trace the cap on a piece of foam and then carve the foam with a butter knife to fit inside the cap.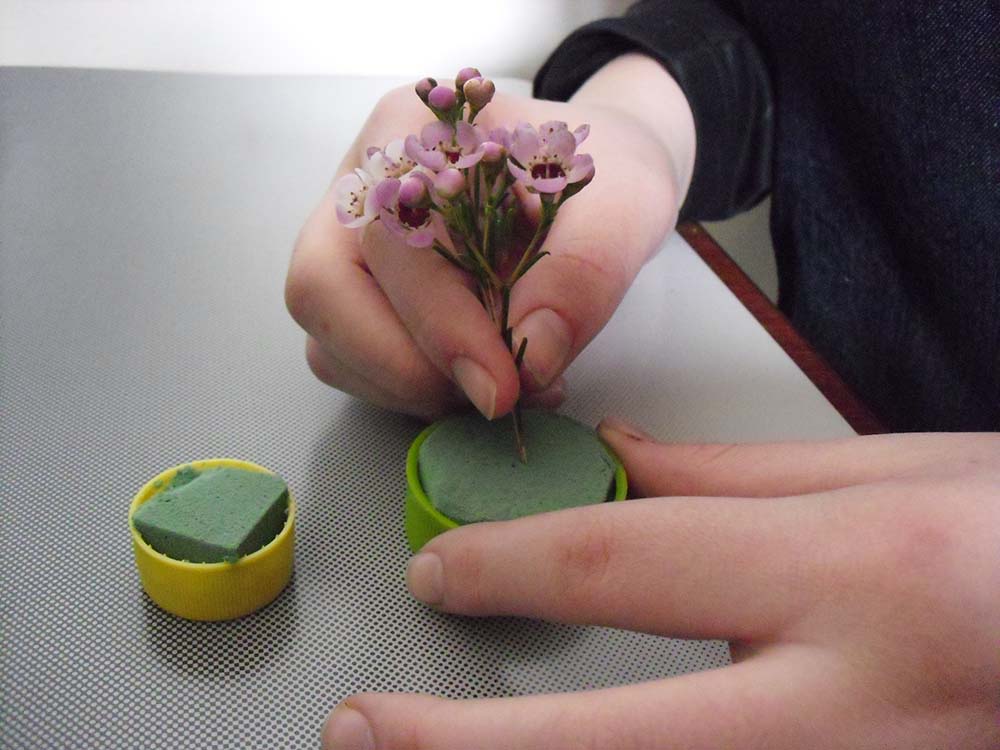 Begin sticking the flowers into the foam. Here, we started with a waxflower in the center and added smaller flowers and herbs around it.
Cut the flower and herb stems about 3 inches. You can trim them shorter depending on the desired height in the arrangement. Stick them into the foam. You might want to start with one of your larger flowers in the center and then add smaller flowers and herbs around it.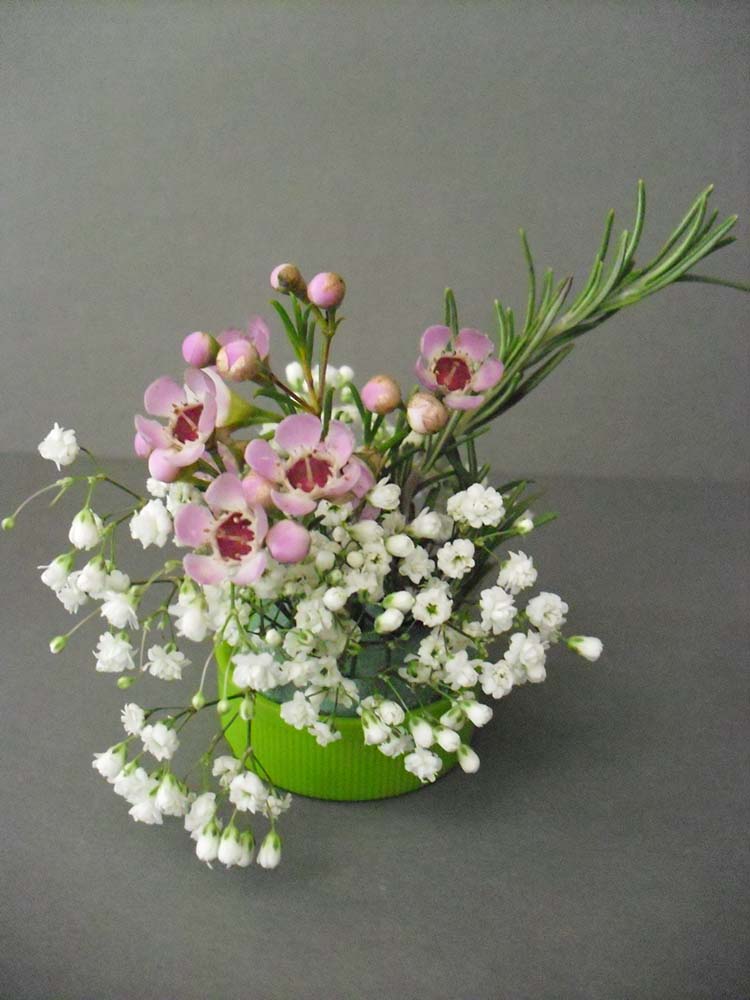 Waxflower, baby's breath, and rosemary complete this delicate arrangement.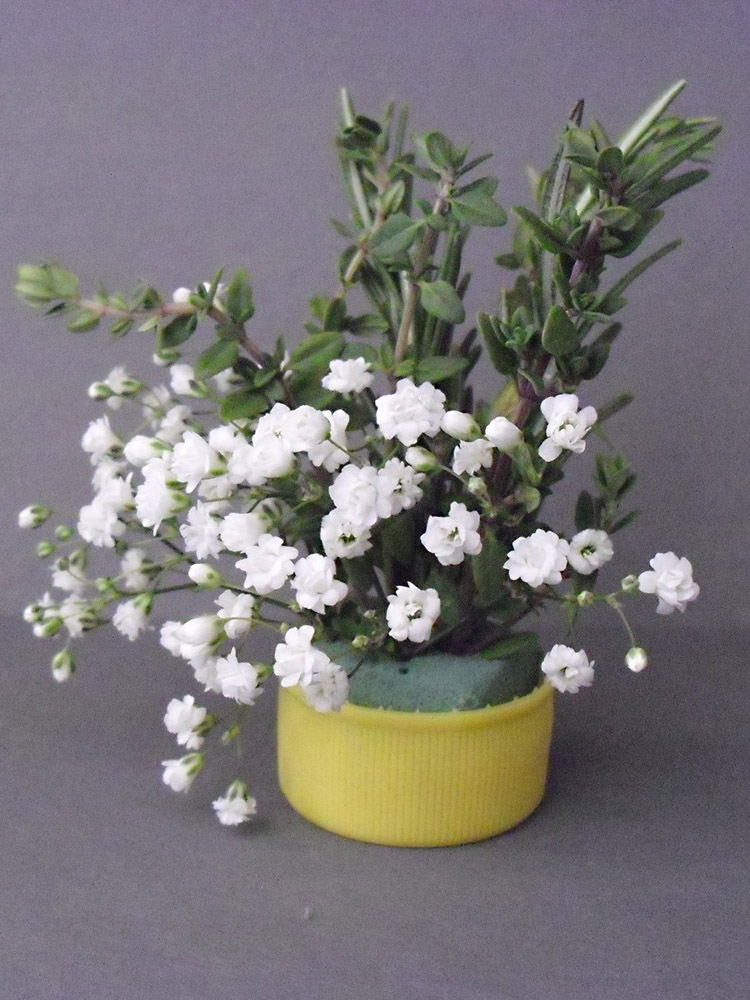 Not into pink? This yellow cap with baby's breath and thyme is fragrant and cheerful.
When you are satisfied with your floral creation, you can either leave it as is—especially if the color of the bottle cap looks nice with the flowers—or you can tie a ribbon around the bottle cap. The best way to keep it in place is by using a few drops from a hot-glue gun.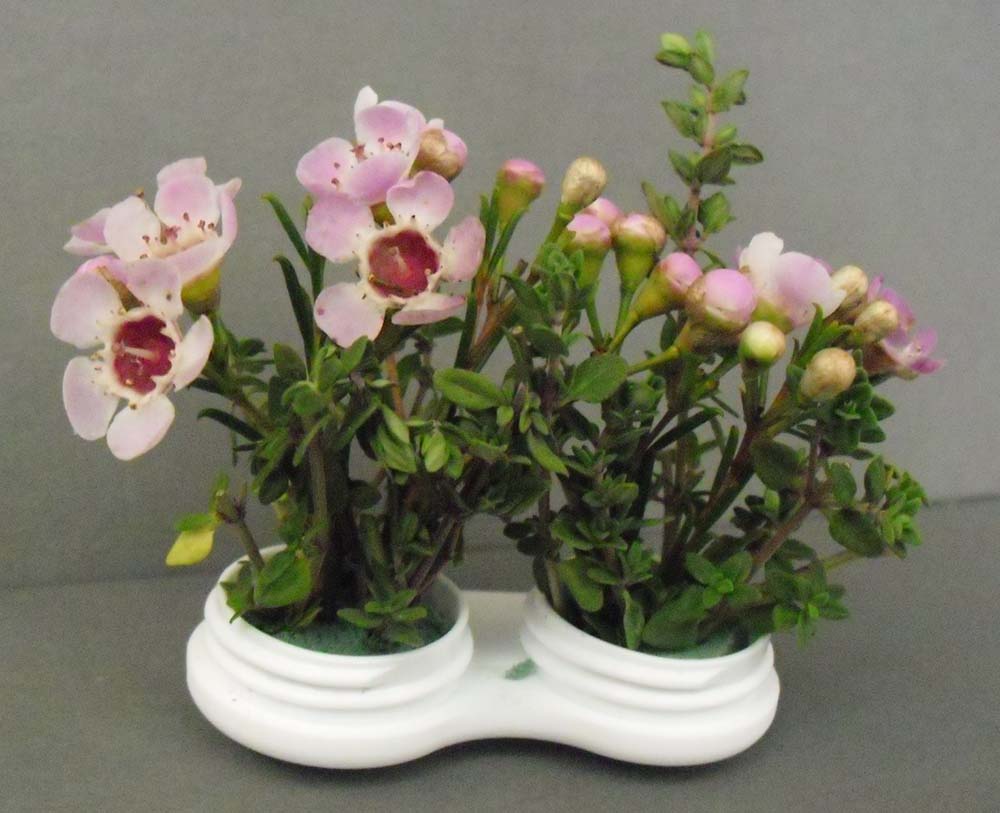 Surprise! An old contact lens case becomes a miniature garden of waxflower and thyme that smells as amazing as it looks.
Tips
When using a shallow bottle cap, limit the number of larger flowers like mini-carnations or mini-daisies to three or fewer. Floral foam has limits. Adding too many flowers will cause the foam to fall apart and the flowers to flop over. If the first attempt suffers from floppy flowers, start over with a new piece of foam and add fewer flowers. 
If you really want more than three large flowers, use a taller cup—such as a medicine cup from a bottle of cough syrup—as the vase. Even then, take care not to overload the foam. This is a small bouquet, after all!
Floral foam is irresistible. Your kids, even teenagers, will want to play with it. Parcel it out in small pieces so they don't play around with the whole block before you can use it. 
You can use the same procedure to make a mini-dried flower arrangement; just don't wet the foam. Any way you make them, these little bouquets are sure to bring big smiles from someone you love.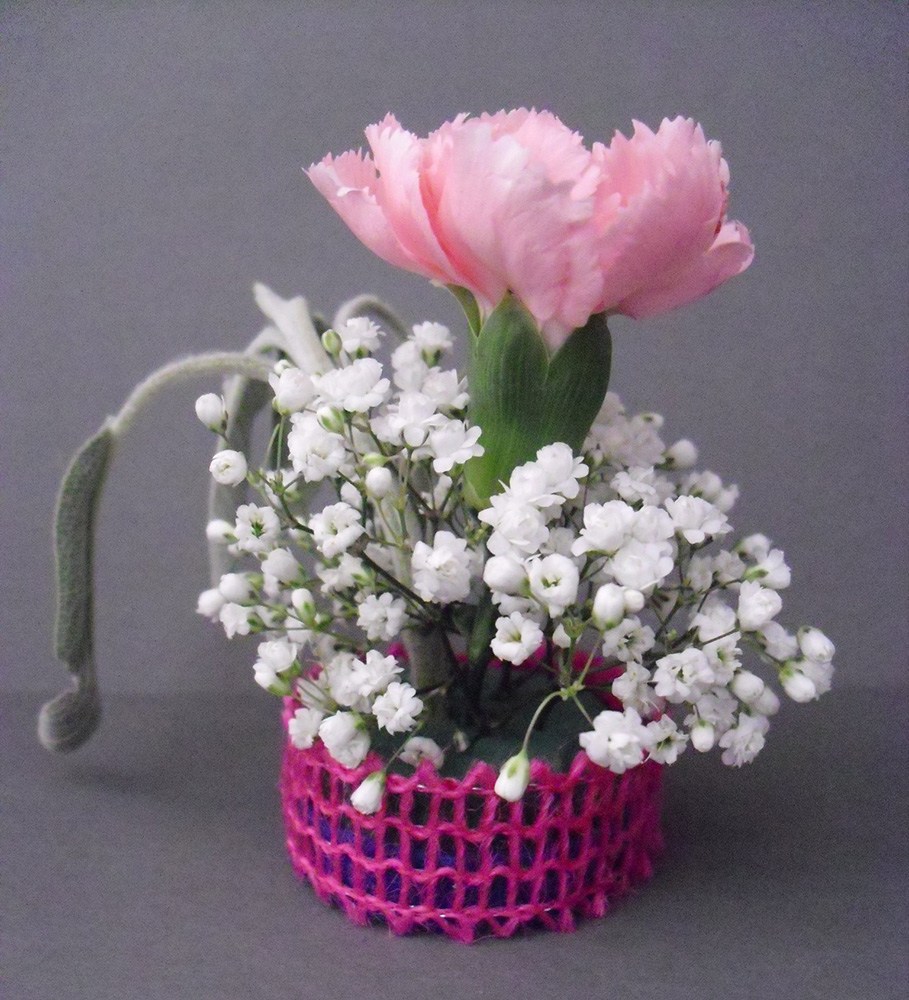 This little arrangement of mini-carnations, baby's breath, and a sprig of sage has pink burlap ribbon wrapped around the bottle cap to mimic a fancy basket of flowers.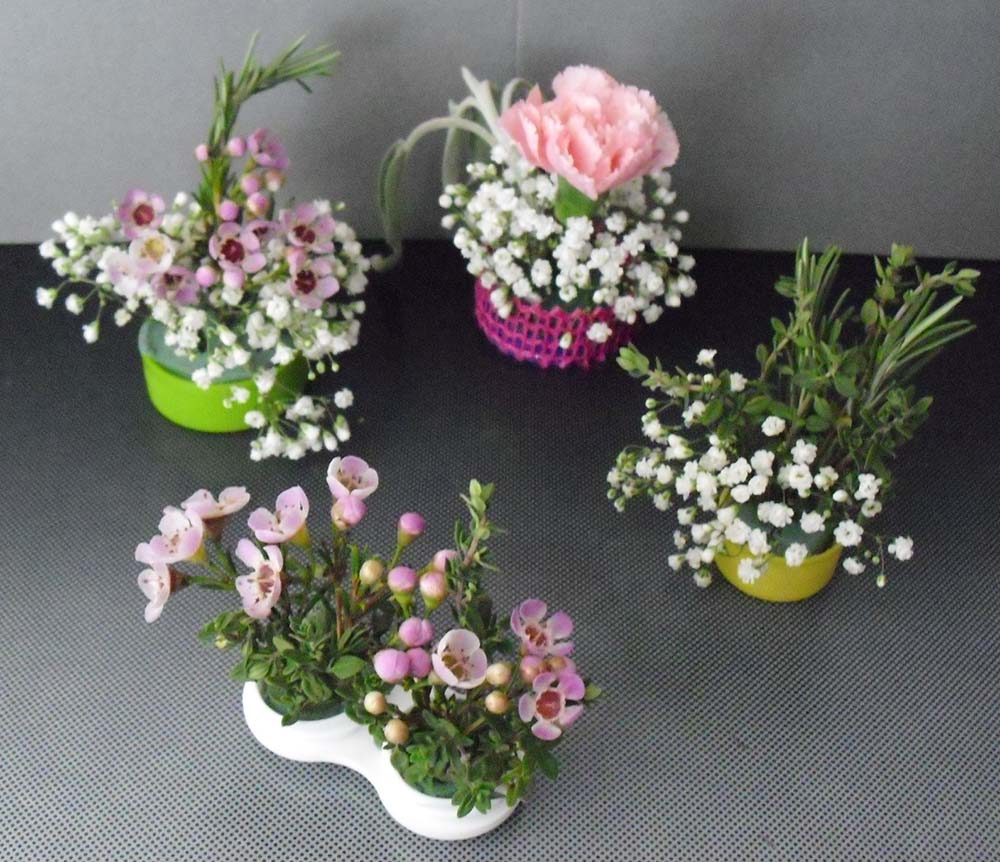 Precious and colorful, these-mini bouquets will stay fresh and bring cheer for a few days