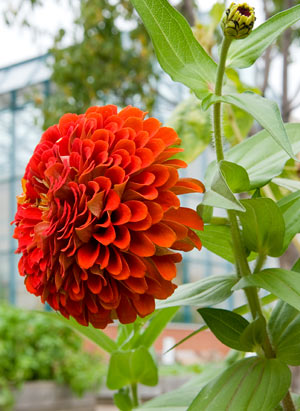 Funders
While earned revenues support some of the annual operating costs of the Chicago Botanic Garden's Windy City Harvest programs for youth and adults, government grants and the generosity of foundation, corporate and individual donors truly sustain this ongoing initiative. We thank all those who recognize the importance of this work to advance a more sustainable and healthy food system, to research and innovate new growing strategies, and to serve communities of need with education and green job opportunities.
The Chicago Botanic Garden thanks the following donors for their generous support of Windy City Harvest.

Major support for the Chicago Botanic Garden's Windy City Harvest programs is provided by the Beginning Farmer and Rancher Development Program of the National Institute of Food and Agriculture, USDA, as well as the following: Anonymous donors, After School Matters, AgriBank and 1st Farm Credit Services, J.R. Albert Foundation, Alvin H. Baum Family Fund, BMO Harris Bank, Brinshore Development, The Brinson Foundation, City of Chicago Department of Family and Support Services, Walter and Karla Goldschmidt Foundation, The Grainger Foundation, Leo S. Guthman Fund, The Hearst Foundations, HSBC, Illinois Department of Commerce and Economic Opportunity, JPMorgan Chase Foundation, Kemper Educational and Charitable Fund, Midwest Foods, Polk Bros. Foundation, Preservation Foundation of Lake County Forest Preserves, Prince Charitable Trusts, Howard and Jackie Shapiro Foundation, Spear Family Charitable Fund, Steans Family Foundation, and the Woman's Board of the Chicago Horticultural Society.

Additional support is provided by the following:
The Albers/Kuhn Family Foundation, Alvin H. Baum Family Fund, Laurance Armour Memorial Trust at the Chicago Community Trust, Benefit Magic, LLC., Tom E. Dailey Foundation, First Bank of Highland Park Foundation, George and Amanda Hanley Foundation, Kaplan Foundation Fund/Carol and Ed Kaplan, Walter S. Mander Foundation, North Shore Garden Club, Northern Trust, Northfielders Garden Club, The Outdoor Foundation, Kathy Pick, Madeleine P. Plonsker, Albert Simon III Charitable Family Foundation, State Farm, and Takiff Family Foundation.