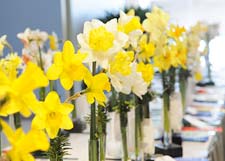 The American Flower Show Series, a growing national horticultural program, brings together amateur and expert gardeners and educators by offering exhibits and programs that focus on America's favorite plant groups. It began in July 1973 when the first flower show was held at the Chicago Botanic Garden and has flourished ever since. When the Education Center — now called the Regenstein Center — opened in 1975, it quickly became the home for flower shows. The Midwest Bonsai Society and Illinois Orchid Society, among many other groups, made it home for their annual shows. The flower shows held at the Garden were, and continue to be, a key part of the public programming offered at the Garden.
In 2004, Mr. and Mrs. Robert Sargent and Sally Hands established the Mead Flower Endowment in honor their parents, Louise Durham Mead and Walter Langworthy Mead. In 2005, the primary space for flower shows, Burnstein Hall, was made possible by a gift from Harriet Kay and Harold R. Burnstein.
The coming year promises to be full of enriching plant-packed programming from the 23 groups that make up the American Flower Show Series. A few highlights include the Illinois Orchid Society Spring Show & Sale in March, the Cactus and Succulent Society of Greater Chicago Show & Sale in July, and one of the country's best bonsai shows, the Mid-America Bonsai Show & Sale, in August.