Executive Vice President and Director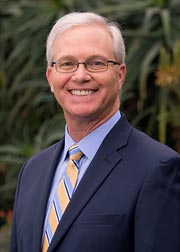 The Board of Directors of the Chicago Botanic Garden named Fred Spicer as executive vice president and director of the Garden in February 2017. Spicer most recently served 15 years as the director and then CEO of the Birmingham Botanical Gardens in Alabama.
As chief executive, Spicer led the transition of a largely city-directed public garden to a highly regarded public-private partnership with the Friends of Birmingham Botanical Gardens, driving garden maintenance, development, collections expansion, and operations. During his tenure, the garden's reputation grew significantly as an important urban green space, event venue, free science education provider, and popular regional destination known for horticultural beauty.

Before his service at the Birmingham Botanical Gardens, Spicer was manager of horticulture for the Morris County Park Commission in Morristown, New Jersey, where he oversaw the Frelinghuysen and Willowwood Arboretum. He is a 1983 graduate of Rutgers University with a bachelor of science in environmental planning, design, and landscape architecture.