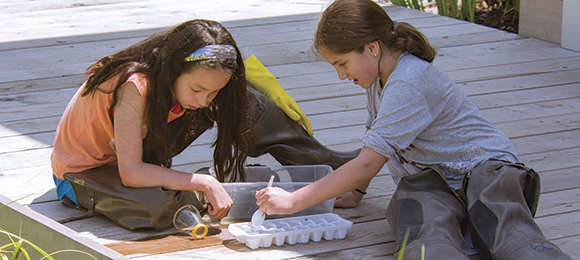 Summer Camp
The Chicago Botanic Garden's signature day camp provides exciting, fun, and enriching outdoor learning experiences for your child, with programs for children ages 6 months to 15 years old. We are happy to offer before-camp and after-camp care for your camper as well.
Checkout our two new camps that extend the summer camp season.

New! Summer Break Camp
June 11 – 15, 2018

New! Garden Adventure Camp
August 13 – 17, 2018
Science, nature, art, ecology, and cooking camps draw kids from Chicago and the North Shore suburbs, including surrounding areas of Glencoe, Highland Park, Deerfield, Northbrook, and Winnetka.
Become a Garden Plus member today and enjoy a special discount.
Where Science, Nature & Fun Meet!
June 18 – August 17, 2018
Camp CBG offers morning and afternoon camps, supervised lunch, and full-day camps to give parents flexible scheduling options. Spend a week or the whole summer at the Garden.
Our instructors are highly qualified, and many have been teaching with Camp CBG for more than five years. All staff members participate in annual training, are first-aid certified, and love teaching.
Rave reviews from parents of campers
"My daughter loved her counselors. You made every day different and exciting! It was educational and very fun!"
"My kids loved your camps. I loved the cultural aspects you bring into the camps—my children would bring up the best conversations at home and were excited to experiment and learn the next day. You guys make learning fun and exciting."
"The staff is so friendly. We just feel so welcomed, especially during drop-off."
"Food allergy training was excellent. Camp subjects were awesome. My son loves touring the grounds! The timing of classes and programs was awesome for our schedule. We loved having a morning or afternoon option, since my son didn't want to go all day."
"The quality of the teaching is excellent. This is the only summer camp where my kids tried to educate me each evening. Our family loved it!"