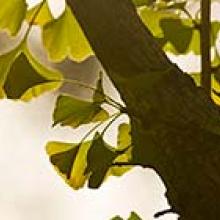 March 14
Thursday
4 – 5 p.m. Reception
5 – 6:30 p.m. Lecture and Book Signing
Fairchild Room
Sir Peter Crane, FRS, dean, Yale School of Forestry and Environmental Studies
$25 nonmember; members receive 20% discount
Ginkgo is perhaps the world's most distinctive and ancient tree. An arboreal oddity with one of the longest of all botanical pedigrees, ginkgo has a life story deeply intertwined with that of our planet. Ginkgo grew up with the dinosaurs and has come down to us almost unchanged for two hundred and fifty million years. Follow the prehistory of ginkgo from its origin, proliferation and spread across the planet, to its decline and near extinction before its dramatic reprieve. This lecture celebrates a beautiful book that tells the evolutionary and cultural life story of ginkgo.