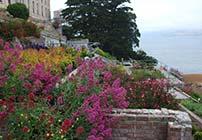 Saturday, September 7, 3 – 4:30 pm
Fairchild Room
Shelagh Fritz, project manager, Alcatraz Historic Gardens Project
$25 nonmember, Chicago Botanic Garden & Garden Conservancy members receive 20% discount
The name Alcatraz immediately conjures up images of the famous prison, perched on a rocky scrap of land weathering the elements in San Francisco Bay, of Al Capone and the Birdman. But for the past 150 years there have also been gardens on the island. In 2003 the Garden Conservancy, Golden Gate National Parks Conservancy, and the National Park Service joined forces to restore the gardens and today a small staff and army of dedicated volunteers plant and prune, compost and weed. This makes 2013 a significant milestone in the history of Alcatraz. It is the ten-year anniversary of this collaboration to resurrect, preserve, and amplify the gardens. Join Shelagh Fritz in what promises to be an invigorating conversation. We will also hear from a Chicago Botanic Garden initiative that promotes a modern-day connection between horticulture and inmates at the Cook County Sheriff's Vocational Rehabilitation Impact Center, where the Garden's urban agriculture program, Windy City Harvest, operates a garden training and production program for young men in this alternative sentencing facility. This event is co-sponsored by the Garden Conservancy.