Ben Tatar and the Tatar Tots
Wednesday, July 3, 2019
5:30 – 7:30 p.m.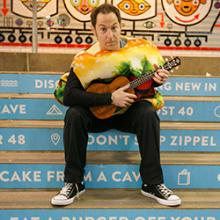 Ben Tatar and the Tatar Tots present fun, funky music for kids and young families. They love to make their shows an engaging, interactive experience that features lots of instruments (Ben Tatar plays more than 10 instruments). Tatar holds a bachelor's degree in music education and a master's degree in jazz composition. With rare exception, the band only sings about food. Their debut album Food! is available for digital download on iTunes.
Please Note: You are encouraged to bring your own chairs as the Garden has a limited supply available each evening.