Moona Luna
Wednesday, June 5, 2019
5:30 – 7:30 p.m.

*Location change: Esplanade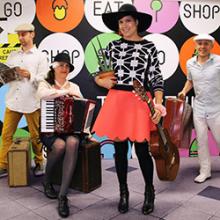 Moona Luna is the kindie group that the New York Daily News says is providing "the missing soundtrack for bilingual/bicultural kids." After making a splash on the family music scene with their accordion-driven, Latin-inspired debut album, Piñata Party (2011), Moona Luna delivered something fresh in its sophomore album, Vamos, Let's Go! (2013), by taking inspiration from American pop hits of the 50s and 60s. Staying true to their bilingual mission, their third album, Panorama, celebrated their Latin roots and drew on broader musical influences from the African diaspora. Moona Luna has performed all over the country. Their fourth studio album is set to be released in 2019. 
Please Note: You are encouraged to bring your own chairs as the Garden has a limited supply available each evening.