The Exceptionals
Wednesday, July 24, 2019
5:30 – 7:30 p.m.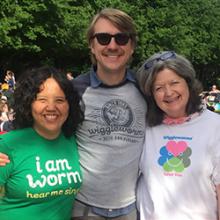 The Exceptionals present Grow, Worm, Grow: A Sensory Celebration Concert for All! Experiencing live music lights up the entire brain and opens communication in ways that words alone cannot. In this interactive concert, Old Town School of Folk Music faculty create a multi-sensory experience carefully designed to calm, delight, and support children with sensitivities and special needs. Centered around the theme of growth, and performed by teaching artists experienced and trained in the field of special education, the concert creates a safe, celebratory space for children with diverse abilities and the people who love them. Children are encouraged to engage how they wish, in their own way, when they are ready. Come celebrate your child's sense of self and growth, and have some musical fun with other children and families.
Please Note: You are encouraged to bring your own chairs as the Garden has a limited supply available each evening.