Istvan & His Imaginary Band
Wednesday, June 19, 2019
5:30 – 7:30 p.m.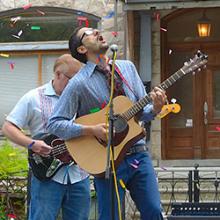 Istvan is a children's and family musician who combines smart lyrics with catchy, rocking songs that appeal to kids and adults alike. The music actively engages kids, encouraging them to sing along, dance and play—even make good choices. What adults like is the stellar songwriting as well as the humor that's sometimes just for them. Istvan plays his fun and clever tunes solo, with the help of his daughter Evie, or accompanied by some of his all-star musical friends.
Please Note: You are encouraged to bring your own chairs as the Garden has a limited supply available each evening.