Little Miss Ann
Wednesday, July 10, 2019
5:30 – 7:30 p.m.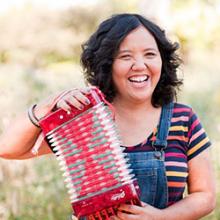 At this kids' music concert, families experience the unique live music of the Little Miss Ann Band. Little Miss Ann is an instructor at the Old Town School of Folk Music and a former Chicago Public Schools teacher. Time Out Chicago calls her "one of the best things to happen to Chicago kids." Little Miss Ann and her band perform songs from her four kids CDs, which are a mix of folk-rock music and traditional and new songs, filled with rich vocals and simple instrumentation. Her last album, Follow Me, had a song featured on WXRT's "Local Anesthetic."
Please Note: You are encouraged to bring your own chairs as the Garden has a limited supply available each evening.