We're excited to make the Chicago Botanic Garden even better for our one million annual visitors. You'll notice some construction and temporary re-routing while we make some improvements that are scheduled for completion by fall 2022.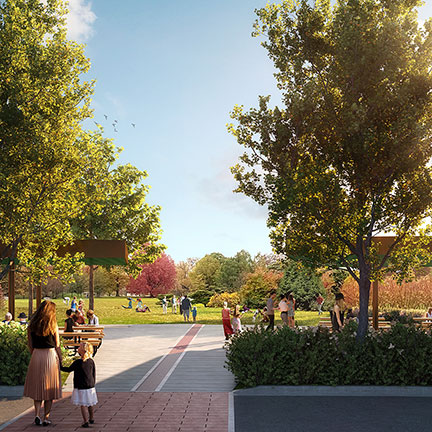 Welcome Plaza
With your convenience and safety in mind, we're building a traffic-free Welcome Plaza, in front of the Visitor Center. It will be a visitor-friendly place for you to meet up with family and friends, and use the staffed and automated ticketing kiosks. You also can stop by guest services if you need help with anything, and use the new accessible restrooms.
Picnic Glade
Also under construction is the Stone Family Picnic Glade, featuring both covered and open spots. Imagine summer evening picnics or fall lunches in this beautiful lakeside setting, overlooking the Malott Japanese Garden.
Health and Safety
Behind the scenes, we're making water system improvements that will reduce the risk of any disruptions in service. And wait until you see our new electric trams—quieter, smoother, and more energy efficient. Please note that tram tours now leave from the Regenstein Center West Portico.
Thank you for your support and for your patience as we make these improvements. We apologize for any temporary inconvenience.
Funding for water main improvements is supported in part by the: PUBLIC MUSEUM CAPITAL GRANTS PROGRAM: ILLINOIS DEPARTMENT OF NATURAL RESOURCES AND THE ILLINOIS STATE MUSEUM.