Come for the Flowers, Stay for the Birds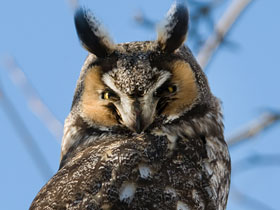 The Chicago Botanic Garden is known for its gorgeous plants, but beautiful birds also abound here, and it's a great place to bird-watch as a family. Children and parents alike will be amazed at the variety of birds they can spot during a leisurely Garden stroll. The Garden's cast of feathered characters changes with the seasons, and you can make birding a repeat activity throughout the year to enjoy them all. All you need are good-quality binoculars, a field guide, comfortable clothes, and walking shoes. (Families can check out a Discovery Backpack at the Garden containing two binoculars and a field guide, among other things, if they have a driver's license.)
Some are Regulars and Some are Just Visiting
Summer is an ideal time to begin, because you can see the same types of birds (species) each time you visit the Garden. This way, you can learn their field marks (identifying characteristics) and get comfortable adjusting your binoculars. Spring and fall are great fun but more challenging, as many more species are moving through the Garden during their migrations.
Whichever time of year you choose, mornings are generally best because birds are most active then, and often most vocal. You can even begin watching birds as you eat your breakfast at the Garden View Café and look over the lakes, where swallows are hawking insects. Throughout the Garden, there are many lovely vistas with benches, and when you tire of walking you can pause on one of them while continuing to observe your feathered friends. Don't forget to include McDonald Woods and the Dixon Prairie in your birding tour, as they are often aflutter with activity.
Here are some common species you'll see at different times of the year at the Garden:
Spring: red-winged blackbird, killdeer, Baltimore oriole, rose-breasted grosbeak
Summer: purple martin, great blue heron, indigo bunting, orchard oriole
Fall: American robin, cedar waxwing, golden-crowned kinglet, white-throated sparrow
Winter: pine siskin, dark-eyed junco, American tree sparrow, Cooper's hawk
Year-round: northern cardinal, black-capped chickadee, American goldfinch, blue jay
Choose the Right Binoculars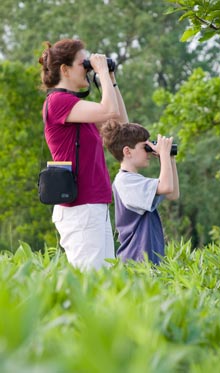 Experts suggest using either 7 x 35, 7 x 36, or 8 x 36 binoculars. The first number is the magnification and the second number is the dimension of the larger objective lens at the end of the binocular. Bausch & Lomb and Celestron produce good binoculars. Remember that higher power is not necessarily best; surprisingly, you want binoculars that allow you to focus up close.
Find the Right Field Guide
Field guides are books that contain either photographs or paintings of different types of birds. These pictures show field marks, or identifying characteristics, of birds. If you use one restricted to the eastern United States, you'll eliminate the confusion that results from similarly marked western birds that are not likely to be seen here. Some helpful books are Birds of Illinois, by Sheryl DeVore; The Fandex Family Field Guides: Birds: Wild Birds of North America; Birds, Nests and Eggs Take-Along Guide, by Mel Boring; and Peterson Field Guides, especially Peterson Flashguides: Birds of the Midwest.
---
Bird Photographs: Carol Freeman and Jim Steffen.