One Day Intensives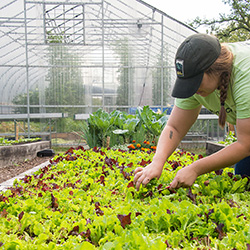 Windy City Harvest one-day intensive workshops are perfect for the small-scale urban farmer or gardener. Whether it is your backyard, community garden plot, porch, rooftop, or school garden, these workshops will help you get the most production out of your small space, using sustainable techniques. All intensives are taught by Windy City Harvest staff or industry experts, and are open to the general public. They include a full day of hands-on experience, and lecture time with an hour-long lunch break. All materials and handouts will be provided, but please provide your own lunch.
Community Workshops are also available "on demand" for groups of five or more within the Chicago area, and can be hosted at our greenhouse or at a location of your choice. Workshop Topics include: Small Farm Tools, Raised Bed Construction, and Food Safety for Small Farms.
Location: All intensives are held at the Farm on Ogden 3555 W. Ogden Avenue, Chicago, IL
Contact: Email Kris De la Torre with questions at kdelatorre@chicagobotanic.org.
We currently offer the following One Day Intensives: