Wednesday, May 1, 2019
9 a.m. – 3:30 p.m.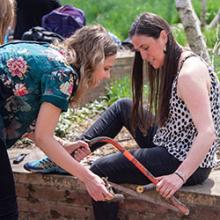 Our sixth annual conference will highlight developmentally appropriate nature play experiences for early childhood (birth through age 8) and practical ideas for incorporating nature play into your early childhood program. Keynote speakers Marilyn Brink, M.Ed., manager of professional development and early childhood at Brookfield Zoo, and Jennifer Rosinia, PhD, OTR/L, president of Kid Links Unlimited, Inc., will address connections between nature play and brain development.
View Schedule

Parking and lunch are included.

Regenstein Center

CPDUs: 6, Gateways: 6
Grade level: Birth – Grade 3
Inspiring Nature Play is possible because of the collaborative effort among the Chicago Botanic Garden, the Alliance for Early Childhood, BackYard Nature Center, Greeley Elementary School, the Forest Preserves of Cook County, Natural Start Alliance (a project of the North American Association for Environmental Education), and Northfield Community Nursery School.