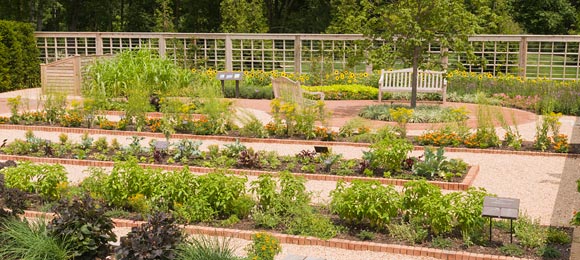 The Grunsfeld Children's Growing Garden is closed for school programs on spring and fall weekday mornings; occasionally, one or both sides of the Children's Growing Garden are closed for programs.
The Grunsfeld Children's Growing Garden is the perfect place for children to engage with nature, with raised garden beds at just the right level for little arms to reach toward the soil. In the Children's Growing Garden, which opened in June 2012, budding gardeners and future scientists learn by doing as they water, weed, and harvest plants. Expert instructors provide hands-on learning that makes a lasting impression. On weekends during the summer, families enjoy drop-in activities, growing closer together as they get closer to nature.
Some Facts about the Children's Growing Garden
75,000 family members annually participate in programs.


Thousands of students from Chicago Public Schools and other area school districts take field trips to the Growing Garden.


More than 1,000 early-childhood-through-high-school educators visit annually as part of teacher professional development programs in environmental education.


Children with different abilities participate in programs at the Growing Garden, which has specially designed gardening trays that are wheelchair accessible, as well as wide paths and sensory planting designed to engage all of the senses.


More than 6,000 campers and other program participants annually take part in hands-on planting, science, and nature activities. Teachers use the plants for activities about plant parts and pollination.
Green Plants and Green Design
The Growing Garden is designed to be kind to the environment. A water-harvesting system for the entire site, plus an "adventure station" rain barrel, help keep the plants growing; solar panels on the roof of the tool and potting shed (actually an attractive support building) offset electrical needs and create a hot-water supply. An open-weave fence covered with different varieties of climbing plants surrounds the Growing Garden, creating a safe, enclosed space for children. Leading into the Growing Garden on either side of the stone walkway are two welcoming, living walls covered in different species of sedum.
Several Kinds of Garden Beds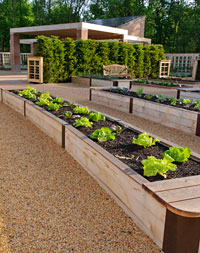 The Growing Garden is divided into two outdoor garden classrooms, one featuring flowers with readily identifiable plant parts that is open to the public for drop-in programs, and another that focuses on food plants and is designated for registered program participants. With a combined total of six raised beds, six in-ground demonstration beds, five display beds, and roll-under planting trays for students who use wheelchairs, the Growing Garden welcomes all children. While children and other program participants water, weed, and even help harvest the vegetables in the growing beds, the demonstration beds (maintained by horticulturists) show them what different food crops will look like when mature. The display beds add to the aesthetic appeal of the Growing Garden and include plants with readily identifiable plant parts.
Between the two outdoor classroom gardens is the tool shed and a wood-and-brick pavilion where participants gather for instruction or rest, take shelter when it rains, or cool off in the shade. Horsechestnut trees also provide shade.
Dimensions
The Children's Growing Garden is 10,000 square feet.
The teaching pavilion is 520 square feet.
The support building is 576 square feet.
The Grunsfeld Children's Growing Garden is made possible through the generosity of Esther Grunsfeld Klatz and Ernest A. Grunsfeld III; the Robert R. McCormick Foundation; the Guild of the Chicago Botanic Garden; and the Public Museum Capital Grants Program, Illinois Department of Natural Resources, Illinois State Museum.