One of the great pleasures of living in the Chicago area is cycling the paths and byways that traverse the city and surroundings. Renowned among cyclists, runners and walkers alike, the North Branch Trail of the Forest Preserves of Cook County (FPCC) extends 20 miles north from Chicago. The Chicago Botanic Garden has long been a destination for riders who begin and end rides at the 385-acre oasis of spectacular scenery.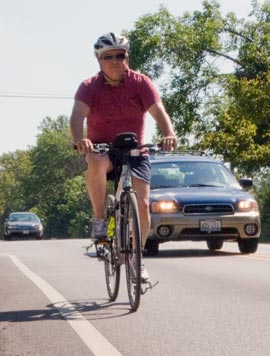 For many cyclists, the alternative has been to ride up or down the very steep incline of Lake Cook Road on the roadway.
The Garden, in partnership with the FPCC and with major funding from the Illinois Department of Transportation, Illinois Transportation Enhancement Program, and the Litowitz Family Foundation, built a multiuse path for bicyclists, runners and walkers that connects the North Branch Trail with the Green Bay Trail at the Braeside Metra station in Highland Park. From that point, the path meanders down the south side of Lake Cook Road to the Garden entrance. 
The path is beautiful, safe, and ADA*-accessible. It passes through Turnbull Woods, east of Green Bay Road, as well as the Garden's McDonald Woods. For many cyclists, the alternative has been to ride up or down the very steep incline of Lake Cook Road on the busy roadway. Allowing cyclists and pedestrians to travel between the two bicycle trails on this connecting path will provide welcome relief from that danger. Biking, running, or walking through McDonald Woods will also allow visitors to experience some of the mystery of the Garden's woodland areas.
The asphalt path is 10 feet wide and a mile long on Garden and FPCC property. Both sides have a shoulder of 2 feet of gravel. Wayfinding and interpretive signs along the path will describe the moraine, wetland, and woodland regions that are part of the Garden's landscape. A wooden boardwalk passes through wetland areas to avoid any damage to the natural ecosystem.
The connecting path between the North Branch Trail and the Green Bay Trail invites cyclists, runners, and walkers to enjoy the Garden at a more leisurely pace. Cyclists can enter the Garden via the path, and park at the bicycle racks near the Visitor Center so from there they can then wander the grounds. Commuters on the Metra trains that stop at the Braeside station in Highland Park will find the multiuse path a lovely improvement for reaching the Garden, as well as returning after their visit.

Hop on your bicycle, don your walking shoes, and come experience the Garden from a new vantage point—and with no parking fee. Bring a friend, push a stroller, pull a wagon, bring your bike on the train or bus, and try out the fun new path.

*Americans with Disabilities Act